Hotel Alex Johnson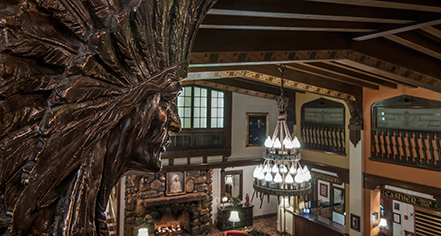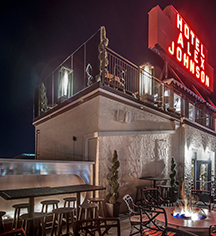 History
Alex Carlton Johnson, Vice President of the Chicago and Northwestern Railroad, was a great admirer of the Black Hills of South Dakota and the Lakota Sioux Tribes that called the area home. He dreamed of building a "Showplace of the West," a tribute to the Native Americans and the Black Hills that surrounded him.
On October 3, 1927, just one day before construction began on Mount Rushmore, Johnson began work on the hotel that would bear his name. What emerged was a structural design that was a successful blend of two spirits: the heritage of the Plains Indians that had so captivated Johnson, and the Germanic Tudor architecture, representing the heavy German immigration to the Dakotas.
Less than a year after construction began, the hotel opened its doors on July 1, 1928. The bar off the lobby was named after the first hotel guest to sign the register, Paddy O'Neill's. Thus began a long line of visitors, dignitaries, presidents, and celebrities that would stay at the hotel over the decades.
Today, as guests walk into the lobby, they can look down and see the original bricks. In the entrance of the lobby as well as throughout the hotel, the "four sacred directions" symbols are present as a tribute to the area's Native American culture and beliefs. The same symbols are found in many places through the Hotel Alex Johnson and reflected in its one-of-a-kind chandeliers made of war spears. This unique lighting fixture has hung from decorative rafters for over 80 years. Throughout the hotel, newspaper clippings and photos from past events throughout Rapid City's history are present for the enjoyment of its guests.
Hotel Alex Johnson Rapid City, Curio Collection by Hilton, is truly a South Dakota treasure. As guests learn more about the hotel's rich past, the more they can begin to understand why it is one of the most exemplary historic hotels in America.

Hotel Alex Johnson, a member of Historic Hotels of America since 2011, dates back to 1928.