Hôtel & Spa Jules César Arles – MGallery by Sofitel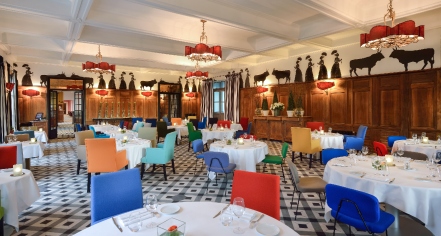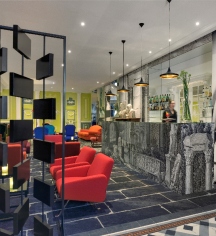 Dining
The Hôtel & Spa Jules César Arles – MGallery by Sofitel has a variety of food options available for its guests. The marvelous Lou Marqués restaurant serves fabulous gourmet French cuisine, while the Bar Le Jules offers an imaginative menu of original Spanish tapas. Come savor a delightful cocktail or a rare culinary treat in either one of the hotels' amazing eateries!
The Lou Marqués Restaurant
Named for the famous Marquis Folco de Baroncelli-Javon, the Lou Marqués serves a delicious variety of regionally-inspired French cuisine. Chef Joseph Kriz prepares each colorful dish with a fantastic assortment of local flavors that highlight Provence's spirited culture. Enjoy one of Chef Kriz's alluring dishes in the warm, Mediterranean sun at Lou Marqués superb outdoor terrace!

Lunch: 12:00 p.m. - 1:30 p.m.
Dinner: 7:30 p.m. - 9:30 p.m.

During the low season, Lou Marques is closed for lunch on Saturday and dinner on Sunday. The restaurant is completely closed on Monday during this time, as well.


Bar Le Jules
Bar Le Jules is an extraordinary place to spend quality time with friends and family alike. Bond together over some of the bar's delicious Spanish tapas and delicious cocktails. This outstanding venue even serves a tremendous selection of homemade petits fours and hot drinks.

11:00 a.m. - 11:30 p.m.


Breakfast
Hôtel & Spa Jules César Arles provides an appetizing breakfast buffet that will help start the day on a high note. But should guests want to approach the morning more slowly, the hotel is certainly than happy to deliver breakfast to their room.

Monday - Friday, 7:00 a.m. - 10:30 a.m.
Saturday & Sunday, 7:00 a.m. - 11:00 a.m.