Hotel Club Francés Buenos Aires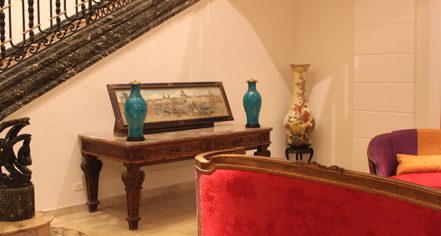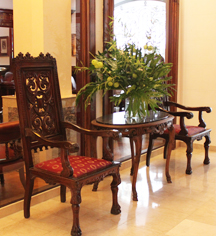 History
Built in 1866, the historic Hotel Club Francés Buenos Aires was originally a townhouse used as the Club Francés (French Club) headquarters. Conceived by a group of French-born residents in Buenos Aires, the Club Francés intitally began conducting meetings at the legendary Café Malakoff. Shortly after the townhouse was built, the French Chamber of Commerce, known today as the Chamber of Commerce and Industry Franco-Argentina, was established in 1884.
Prominent founding members of Club Francés:
Ulric Courtois, architect and designer of the Basilica of Luján
Dr. Miguel Laphitzondo, Medical Director of Hospital Francés
Dr. Francis Simon, doctor, intellectual, and founder of the Alianza Francesa (French Alliance) in 1893
Dr. Joseph Linesmen, President of Academia Nacional de Medicina (National Academy of Medicine)
Charles Thays, architect and Director of Parques y Paseos de la Ciudad ( Parks & Walkways)
Paul Groussac, journalist, historian, and Director of the Biblioteca Nacional de la República Argentina (National Library of the Argentine Republic)

In 1889, Club Francés began hosting celebrations for national French and Argentine holidays. In collaboration with the Argentine government, the club's first event was attended by Dr. Carlos Pellegrini, Vice President of Argentina at the time, who would be come President the following year.
Club Francés quickly flourished in the elite social circle and was visited by luminaries of the art and business world, including recipient of the Noble Prize in Literature, Anatole France, and acclaimed Spanish politician and journalist, Vicente Blasco Ibáñez.
Celebrating the 100th anniversary of Argentina's Independence, the club hosted an extravagant affair that was attended by then President of Argentina, José Figueroa Alcorta, his ministers, and several other notable politicians and government officials.
Since its inception, Club Francés became a prominent institution representing the French community in Buenos Aires, participating in significant cultural and political efforts, including the formation of Club Europeo (European Club.) Today, Hotel Club Francés Buenos Aires remains a symbol of the Argentine and French alliance, illustrating the ideals established by Club Francés pioneers.
Hotel Club Francés Buenos Aires, a charter member of Historic Hotels Worldwide since 2013, dates back to 1866.