Hotel Club Francés Buenos Aires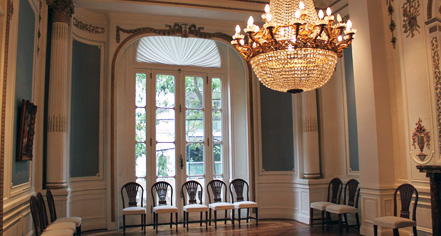 Meetings & Groups
Before the classic building was restored and converted into a hotel, Club Francés successfully hosted celebrations and grand events frequented by French and Argentine dignitaries of the political and cultural scene. Notably, the club's 100th anniversary celebration of Argentina's Independence was attended by then-President of Argentina, José Figueroa Alcorta, and his ministers. Today, the historic Hotel Club Francés Buenos Aires features four multipurpose event and meeting spaces boasting an brilliant setting that resonates with the grand affairs of its treasured past.
Affording 60 m2/645 ft2 of space, the elegant Boisserie is fitted with century-old carved oak, expansive antique mirrors, and classic trimming. Perfect for gala dinners and wedding ceremonies, the Boisserie can seat 60 people comfortably.
Illuminated by commanding chandeliers, the Gold and Silver Meeting Rooms are opulent spaces perfect for intimate gatherings. Featuring fireplaces crafted from marble, bronze, and oak, the Gold Room boasts 40 m2/430 ft2 of space while the larger Silver Room is 50 m2/538 ft2. Both rooms can entertain 120 standing guests.
Ideal for board meetings and intimate family and business meals, the Private Dining Room features a stunning glass dining table complemented by a beautiful marble fireplace.