Hotel Hacienda Merida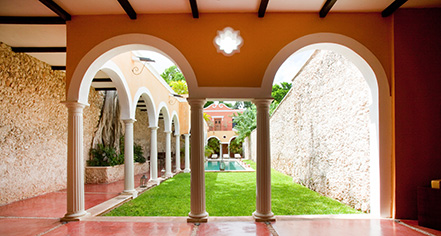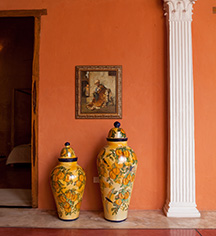 History
The historic Haciendas of the Yucatan state are a product of the 18th century henequen boom. The Hotel Hacienda Mérida is a charming luxury boutique hotel that was formerly a private home, dating back to 1840. It has been transformed into a 14-room oasis, centered around a central courtyard with Doric columns and filled with tropical plants. At dusk, candles and lanterns illuminate the courtyard, creating a romantic ambiance for couples sipping margaritas.
Each individually decorated guestroom boasts canopy beds and the finest luxury linens that a discerning traveler can expect. For guests who desire more privacy, the exclusive Hotel Hacienda Mérida VIP is a separate wing from the main hotel. It was previously an 1820 historical home, remodeled into four lavish guestrooms. Travelers will appreciate the distinguished hospitality and personalized service in this welcoming addition.
Once a guest steps outside the front door, the thriving city of Mérida is available to them, from the hotel's convenient location in the heart of the historic center. It is only four blocks from the main square and two blocks from Paseo de Montejo. Other notable landmarks and attractions close to the hotel include Parque de Santa Lucia, Mérida English Library, Teatro José Peón Contreras, Universidad Autónoma de Yucatán (UADY), and Parque Hidalgo.

Hotel Hacienda Mérida, a member of Historic Hotels Worldwide since 2016, dates back to the 18th century.