Hôtel Le Louis Versailles Château - MGallery by Sofitel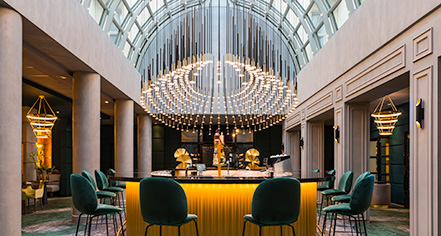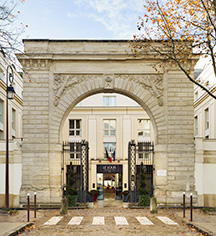 Overview
Hôtel Le Louis Versailles Château - MGallery by Sofitel sits before the resplendent Palace of Versailles, the legendary home of the French royal court throughout much of the 17th and 18th centuries. During that time, the land that the hotel now occupies belonged to the estate, with beautiful sprawling gardens covering the area and mesmerizing the countless guests who traveled to visit the king. The grand arches that serve as the entrances to the current hotel were built when the Palace of Versailles found new life during the reign of Napoleon Bonaparte's nephew, Emperor Napoleon III. In 1854, Napoleon III directed the Ministry of War to erect an artillery barracks on the grounds of the estate, so the Ministry hired architect Charles-Auguste Questel to design the new building. However, commanders of the local garrison eventually deemed the facility superfluous and discarded it outright decades later. Eventually, enterprising hoteliers rescued the erstwhile barracks, converting it into a luxury boutique hotel. Sofitel now proudly operates the building as the Hôtel Le Louis, preserving its historical aura for future generations to enjoy.
Committed to protecting Hôtel Le Louis's fantastic heritage, Sofitel hired the talented Sundukovy Sisters to completely refurbish the building, and what they accomplished was simply amazing. Each of the hotel's 152 guestrooms and suites convey contemporary elegance, while also emphasizing the hotel's historical refinement. All accommodations feature a range of amenities including bathrobes, televisions, and access to the wellness area, with accessible and adjoining rooms available. Guests can also locate renowned dining establishments inside the hotel, with the luxurious eateries L'Alcôve and Le Bar offering brilliant French cuisine and special novelty cocktails. The Hôtel Le Louis Versailles Château - MGallery by Sofitel is also committed to doing everything it can to ensure the success of private and professional events, with eight modular, fully equipped meeting and conference rooms that can accommodate up to 180 people. After a long day of exploring Versailles, conducting business, or celebrating special occasions, guests can relax in the hammam and sauna, which have sensorial rain-showers and massages on demand.
Originally a small medieval village located some 14 miles from Paris, the City of Versailles is now a bustling metropolis. French monarchs once governed all of France from the city, which, for a time, served as the de facto capital of the entire realm. King Louis XIV, who developed the community, intended for the settlement to serve as the embodiment of the country's prestige and glamour. Today, guests residing at the Hôtel Le Louis, Versailles Château can experience this grandeur for themselves. Just a few hundred yards away from the hotel resides the imposing Palace of Versailles and its Gardens, with its shadow looming majestically over the Hôtel Le Louis. For the last thirty years, this stunning building has been a celebrated UNESCO World Heritage Site. Further into town, more cultural landmarks and historical structures await, such as the Domain of Montreuil, Le Potager du Roi, and the Church of Notre-Dame. Guests can also peruse through authentic local shops and restaurants that fill Versailles or visit one of the city's many exciting museums.
Hôtel Le Louis Versailles Château - MGallery by Sofitel, a member of Historic Hotels Worldwide since 2018, dates back to 1854.
The main gates at the front of the hotel have several beautiful carvings related to the reign of Napoleon III. Many martial symbols adorn each structure, as does a large capital "N" that refers to the emperor himself.
Original Property Opened: 1854
Historic Hotels Worldwide toll-free reservations number +1 866 670 3764

Location
2 bis Avenue de Paris
78000 Versailles
France

Check-in time: 2:00 p.m.
Check-out time: 12:00 p.m.



Hotel Amenities & Policies
Accessible Rooms: Accessible rooms are available. Please notify request at time of booking.
Adjoining Rooms: Adjoining rooms are available. Please notify request at time of booking.
Cancellation Policy: Depends on the package chosen.
Cribs and Pack-in-Plays: Available upon request; complimentary.
Deposit: Depends on the package chosen.
Early Check-In/Late Check-Out: Available, depending upon availability, from 9 a.m.-4 p.m. for a €50 fee.
Extra Bed Fees: €50 per night, not available in Superior Rooms.
Hotel/Resort Fees & Taxes: €2.65 tourist tax per person per night, to pay at the hotel (for 2019; subject to change in 2020).
Occupancy Restrictions: Varies by room type.
Parking: On-site parking is available for €20 per day.
Payment: All forms of payment are accepted. Payment is required at time of booking. Visa, MasterCard, Amex, and Discover are accepted.
Pet Policy: €15.00 per day.
Rollaways: Available upon request; fees may apply.
Smoking Policy: 100% non-smoking property.
The above list may not be comprehensive and information is subject to change without notice. Fees and deposits may not include tax. Taxes, fees, deposits, and policies are subject to change without notice.