Hotel Morales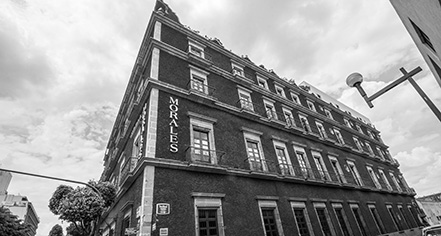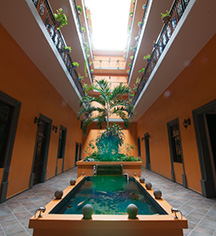 History
The story of Hotel Morales dates back to May 15, 1888, when the railroad started running through the city of Guadalajara. The station was located just behind the temple of San Francisco and this influx of visitors meant an increased need for inns and boardinghouses. Some enterprising local families filled this need by transforming their homes to receive visitors; first as guest houses, then hotels.
Luis Verea was the original owner of the House Verea, a two-story house with an open garden and a view of the temple of San Francisco. At the end of the 19th century, the Morales Sisters, who were original from San Luis Potosi, purchased the home and opened the Assistance House of the Morales Sisters. Thereafter, they left the house to their nephew, Luis Morales, who decided to extend it and build a luxury hotel: the Hotel Morales.
In 1930, Mr. Morales began to remodel the house by building two additional floors, with the help of Enrique Gonzalez Madrid. The façade was covered with volcanic rock to give it a Neo-Colonial look. Due Mr. Morales' passion for "toros," the hotel welcomed those people connected with the bullfighting world. The bullring, El Progreso, stood proudly in front of the Cabanas Hospice. When the show ended, the appreciative audience brought the bullfighter from the gates of the Plaza to the doors of the Morales. In the hotel bar, people gathered to celebrate and had parties that lasted until dawn. This magical and festive atmosphere attracted many to stay at the hotel, from writers to politicians, from singers to the major figures of the "Golden Era" of Mexican films, including Pedro Infante, Jorge Negrete, and the beautiful Maria Felix.
After Mr. Morales died in 1964, his wife Anita took care of the hotel. But with the demolition of the bullring and the deterioration of Guadalajara's downtown in 1974, she sold the property to investors, who left the building abandoned until better times. In 2004, after 30 years of silence and neglect, a group of visionary Spanish investors purchased the building and its annex, the Virreinal, with the intention of reviving the property.
After two years of remodeling, the Hotel Morales has regain its place as an architectural gem and is, without a doubt, the best hotel in the historic center of Guadalajara. Hotel Morales is classified as an Artistic Heritage and Architectural Jewel of the city of Guadalajara. The building is also under protection the of the Instituto Nacional de Antropologia e Historia (National Institute of Anthropology and History).

Hotel Morales, a member of Historic Hotels Worldwide since 2016, dates back to 19th Century.