Hotel Moskva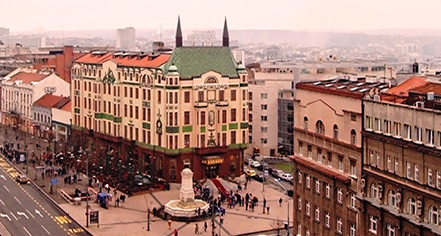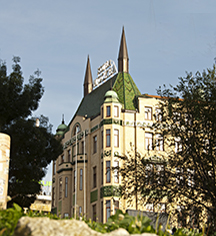 History
Hotel Moskva, the architectural jewel of Russian Art Nouveau, forever changed the landscape of Belgrade and is the esteemed meeting spot for Belgradian artists, Balkan and world elite. Opened on January 14, 1908, by King Petar I Karađorđević, it is the key eyewitness and storyteller of countless events through Serbian and Balkan history. Hotel Moskva has been the monument of Serbian culture from 1946 and a cultural asset under the State's protection since 1968.
The building was designed by Belgrade architect Jovan Ilkić's (1857-1917) and supported by architects Andra Stevanović and Nikola Nestorović. Ilkić's design employed a Secessionist style with skillfully incorporated ancient Greek elements. The surface of the outer walls from the second floor to the roof was lined with yellowish tiles decorated with green-colored ornaments. The ceramic lining was brought in from the Zsolnay factory in Pécs, Austria-Hungary that reportedly to this day keeps the casts used to mold it. The upper part of the hotel's façade was laid with a maiolica decorative relief titled 'Glorification of Russia,' featuring an image of Roman god Neptune, symbolizing Imperial Russia's yearning for maritime dominance.
The hotel played a central role in the post World War I Serbian literary scene. Arriving in 1919 to a war-ravaged city that still did not have fully restored electricity and water supply, novelist Miloš Crnjanski described Belgrade as being "wrecked and ugly - full of holes, ruins, weeds, uncertainty, sensational political events, and returning writers from all corners of the world." Crnjanski established Grupa umetnika, a small but enthusiastic collective of writers, painters, and musicians eager to provide Belgrade with a new beginning in art and culture. They did not form a coherent school or movement, but their meetings, discussions, and polemics over the nature of art provided an engaging and stimulating atmosphere for a younger generation of Modernist writers amidst the Belgrade ruins. In addition to Crnjanski, the group that united pre-war and post-war generations featured Sima Pandurović, Rastko Petrović, Stanislav Vinaver, Ivo Andrić, Momčilo Nastasijević, and Branko Lazarević. They met in Hotel Moskva's kafana, because, according to Crnjanski, it was the only place with light.
In the post World War II period, the hotel went back to being Belgrade's cultural elite favorite congregation spot. Yugoslav Nobel laureate in literature, Ivo Andrić, had his own table at the restaurant. Poet Vasko Popa was a regular visitor who frequented the hotel's cafe for decades on a daily basis - his daily ritual consisted of arriving every day at 3:30 p.m., drinking his coffee, and staying until 6:00 p.m.
Robert de Niro, Albert Einstein, Indira Gandhi, Luciano Pavarotti, Maxim Gorky and Alfred Hitchcock are famous guests who left their permanent mark – six suites are named after them. Pictures of celebrated guests line the hallways; these include Leon Trotsky, Rebecca West, Richard Nixon, Leonid Brezhnev, Yves Montand, Vanessa Redgrave, Brad Pitt, and Nikita Mikhalkov.
The Moskva pastry shop has been making Belgrade's traditional and favorite decadent cakes and indulgent pastries for over 40 years. The "Moskva Schnitt," the hotel's signature cake, was created in 1974 by Pastry chef Anica Dzepina and a Belgrade favorite for over four decades. The original recipe is still used today.
Throughout its 108 years, the hotel has welcomed more than 36 million guests and over 4 million people have spent the night. Having outlived two world wars and eight state systems to become the most prominent symbol of Belgrade and the greatest charmer of the hospitality scene, the walls of palace "Moskva" witnessed historical processes not only in Serbia, but in the Balkans and Europe.

Hotel Moskva, a member of Historic Hotels Worldwide since 2016, dates back to 1908.