Hotel Moskva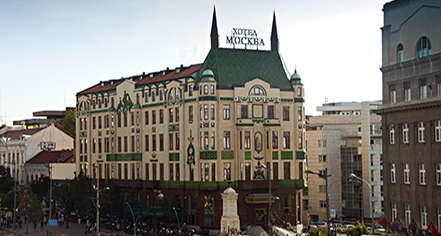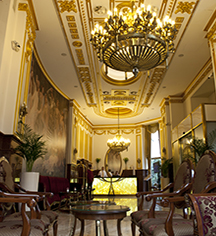 Meetings & Groups
The Hotel Moskva has four conference and banquet rooms with the total seating capacity of up to 375 guests. The rooms can be customized to accommodate all kinds of business meetings or celebrations, with state-of-the-art equipment, and experienced, friendly staff available.
The Moskva Hall is an excellent choice for organizing various cocktails or promotional events for up to 80 guests.
The Balkanska Hall is set to host participants of large meetings, company presentations, weddings, cocktails, gala dinners, and conferences with a seating capacity of up to 200 guests.
The Terazije Hall offers an unforgettable view of the Sava River and Novi Beograd. This ballroom has a seating capacity of up to 70 guests. Due to their lavish interior and lighting, the Balkanska Hall and Terazije Hall are particularly fitting for luxury weddings and private celebrations.
Thanks to its mixture of classic interior and modern audio-visual equipment, the King Milan Conference Room is absolutely comfortable and pleasant. It has a capacity of up to 25 guests.
Event Space Chart

Moskva
Hall


1216 sq ft/
113 sq m
60 x 20 ft/
18 x 6 m
40
30
24
25
90
30
80

Balkanska
Hall


1800 sq ft/
167 sq m
96 x 19 ft/
29 x 6 m
75
60
90
60
200
90
120

Terazije
Hall


861 sq ft/
80 sq m
37 x 17 ft/
11.4 x 5.2 m
35
35
40
35
70
50
60

King Milan
Conference Room


538 sq ft/
50 sq m
30 x 60 ft/
9 x 5.6 m
20
20
28
20
40
n/a
n/a