Hotel Nemzeti Budapest - MGallery by Sofitel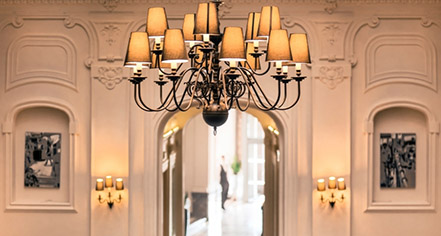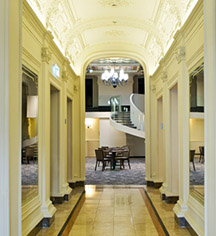 History
At the beginning of the 19th century, Budapest was quickly developing into one of Europe's most preeminent cities. A nascent, yet energetic community of Hungarian intellectuals began congregating within the city, campaigning for the creation of various public institutions that could champion the region's vibrant culture. Ferec Kazinczy and István Széchenyi were two of these great thinkers, who specifically advocated for the development of a national theater company. Convinced by their arguments, the Hungarian Parliament decided to erect such an organization in 1837. Debuting as the Pesti Magyar Színház (Hungarian Theater of Pest), the company specialized in hosting dramatic plays inspired by the works of renowned Hungarian authors.
The Pesti Magyar Színház became the "Nemzeti Színház" (National Theatre) when the government nationalized the organization some three years later. Despite the great prestige that it wielded throughout Budapest, the theater never possessed a permanent home for longer than a few decades. Among the many locations that it occupied was the People's Theater Building in Blaha Lujza tér (Blaha Lujza Square), which it moved into during 1908. Within a matter of months, the Nemzeti Színház rapidly cultivated a devout following of artists and scholars who found its shows irresistible. As such, the company performed numerous, dazzling performances that captivated the entire city.
Many businesses near Blaha Lujza tér prospered from the presence of the Nemzeti Színház. A magnificent, five-story hotel located just a few blocks away was among those that benefited the most. Already an established destination in Budapest since 1896, the hotel attracted a considerable clientele base due to its then-luxurious amenities, like central heating and electric lighting. But with the arrival of the Nemzeti Színház, the hotel became an immensely popular gathering spot for the theater's excited patrons. As the Nemzeti Színház grew in repute, so too did the hotel. This enthusiasm led to the formation of a tight relationship between the two that persisted for years. When the hotel finally assumed the name "Hotel Nemzeti" in 1929, it was just as admired as the Nemzeti Színház for its cultural significance!
The local government relocated the Nemzeti Színház to another neighborhood in 1965. But despite the absence of the Nemzeti Színház, the Hotel Nemzeti maintained its exalted status. Now operated by Sofitel, the Hotel Nemzeti is still an illustrious holiday destination in Budapest. It continues to celebrate the city's rich artistic heritage, going as far as to form its own cultural organization called the National Arts Club. In close collaboration with the Hotel Nemzeti, this group of intellectuals endeavors to preserve the city's unique, historical commitment to the arts. Sofitel is thrilled to have the Hotel Nemzeti Budapest as part of its esteemed collection of luxury boutique hotels.

Hotel Nemzeti Budapest - MGallery by Sofitel, a member of Historic Hotels Worldwide since 2018, dates back to 1896.