Hotel New Grand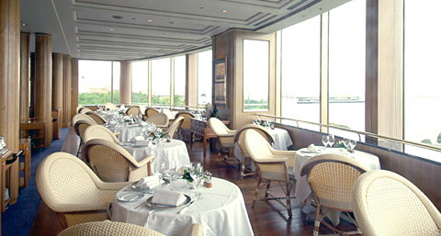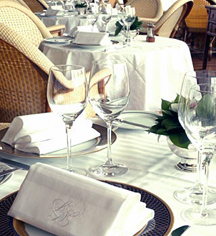 Dining
Sophisticated European cuisine with a twist of Japanese flair – this is what guests can expect from Yokohama dining experiences at Hotel New Grand. Opulent décor and classic ambiance add to these epicurean adventures.
Le Normandie
Panoramic views abound from the window seats at this traditional French restaurant. Located on the fifth floor of the Tower, Le Normandie evokes a glimpse into the theatrical past of the 1930s, created by the world-renowned French designer Monsieur P. Yves Rochon.
Il Giardino
Delectable cuisine awaits at il Giardino, an authentic Italian restaurant at Hotel New Grand. Guests can enjoy views overlooking the garden and patio where a stunning Italian mosaic adds to the delightful experience.
Yugyoan Tankuma
Inspired by Mori Ogai's famous novel, Takasebune, the Yugyoan Tankuma restaurant is one of the oldest Kyoto-style restaurants in Japan and is located on the fifth floor of the Main building.
Lounge La Terrase
Whether guests are meeting up with friends or just relaxing, the Lounge La Terrasse is a comfortable place for cocktails. This area connects the front lobby in the Main building and is surrounded by a striking patio to create a cozy atmosphere.
Bar Sea Guardian II
Bar Sea Guardian II is an authentic, traditional English pub. Quickly becoming a highly recommended pub in Japan, this quiet and friendly setting is the perfect place to enjoy a cocktail with friends.
The Café
For a restful break, guests can stop in for a cup of tea or coffee at The Café. Reminiscent of the 1950's North American coffee shops, The Café features both American and European cuisine in a casual atmosphere.