Hotel New Grand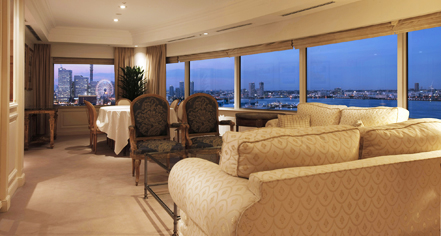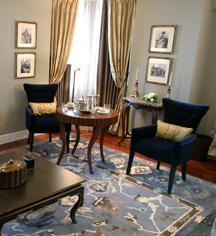 Meetings & Groups
Exemplifying the history of Yokohama, the four banquet halls at Hotel New Grand are filled with over 80 years of cultural heritage and history. Both beautifully designed and expertly serviced, these Yokohama meeting facilities can serve as a magnificent backdrop to a variety of events. A wedding chapel is located on the 18th floor of the Tower building and boasts panoramic views of Yokohama Bay.
Admiral Perry Room
Named after Commodore Matthew Perry, the Admiral Perry Room in the Tower building offers a spectacular view of Yokohama Harbor. This harbor is where Perry arrived on July 8, 1853, to deliver a letter to the Emperor of Japan from the President of the United States of America. This letter requested that Japan open its ports to global trade and ended 200 years of seclusion. The Admiral Perry Room spans 1446 square feet/441 square meters and can host a variety of events, including conferences, wedding receptions, galas, and exhibitions.
Rainbow Room
This 825-square-foot/273-square-meter room is located on the second floor of the Main building and is decorated with authentic European décor.
Phoenix Room
Adorned in the Momoyama-style of Japanese décor, the 725-square-foot/221-square-meter Phoenix Room is an ideal location for smaller meetings and conferences.
Starlight Room
Offering superior views, the Starlight Room is 725 square feet /221 square meters and can be divided into three separate rooms.