Hotel Papadopoli Venezia - MGallery by Sofitel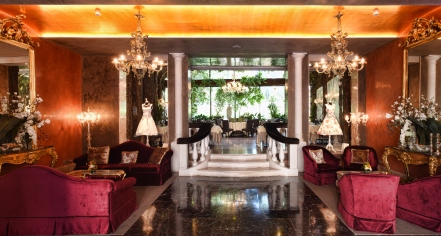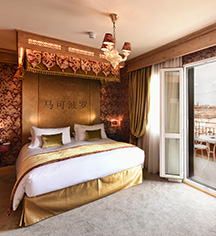 History
The history of the Hotel Papadopoli Venezia - MGallery by Sofitel is one cast in romance. When the entrepreneurial Count Spiridione Papadopoli purchased the building during the early 19th century, he transformed it into a beautiful palace for his young wife, Teresa Mosconi. Yearning to give his wife the most magnificent residence in all of Venice, Papadopoli transformed the building into a lavish palace with the help of the talented architect, Francesco Bagnara. The Count called his wife's new home the Papadopoli-Foresti. Together, Papadopoli and Bagnara also added an exquisite park onto the building, which became known as the Papadopoli Garden. For many years, Papadopoli and Mosconi hosted dozens of resplendent, romantic parties on the grounds for the affluent in Venetian society. By mid-century, the Papadopoli Garden emerged as a popular gathering spot in Venice.
The Count eventually sold the building to city officials during the early 20th century, including the stunning gardens adjacent to the building. The Venetian city government later demolished much of the historic garden to build the Rio Novo Canal in 1933, while the palace was converted into a school. At the same time, hoteliers constructed a hotel on what remained of the garden, continuing the legacy of Count Papadopoli and his wife.
Several years later, the brilliant landscape architect, Pietro Porcinai, designed a new, marvelous garden within the hotel grounds. Prociani's masterpiece became the hotel's lovely Winter Garden, which serves as a romantic tribute to Papadopoli and Mosconi, as well as the lavish parties they once held. Sofitel recently acquired the building and incorporated it into its esteemed MGallery Collection, rechristening it as the Hotel Papadopoli Venezia - MGallery by Sofitel. The area is now part of the historical register for the Ministry of Cultural Heritage and Activities.
Hotel Papadopoli Venezia - MGallery by Sofitel, a member of Historic Hotels Worldwide since 2018, dates back to the 18th century.