Hôtel Paris Bastille Boutet - MGallery by Sofitel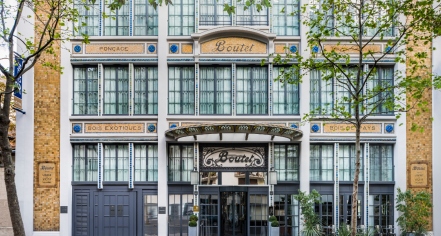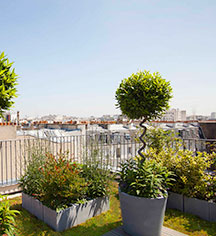 History
Hôtel Paris Bastille Boutet derives its name from a historic Parisian company named Maison Boutet. At the beginning of the 20th century, Maison Boutet was a successful business that manufactured and distributed exotic wood to the craftsmen living throughout the surrounding area. It was actually comprised of two separate entities called Bois Exotiques and Bois de Pays. Maison Boutet developed such a following that its company officers decided to relocate the shop to a much larger building. The famed French architect Achille Champy then went about constructing the business's new home during the late 1920s. The new structure debuted with a dazzling façade steeped in Art Deco design, and beautiful ochre mosaics molded by Gentil & Bourdet. Champy had also emblazoned across the building stunning friezes that featured both Maison Boutet's name, as well as that of its two branches.
The building continued on as a factory for the next 63 years, producing a variety of different goods. By the middle of the 1980s, all manufacturing had ceased at the location. After spending some time as an office space, a team led by Vincent Bastie and Astrid Dieterlen restored the building to resemble its former glory. Together, the group saved the structure's amazing exterior appearance from deterioration. Amid the renovation, Bastie and Dieterlen had the idea to transform the erstwhile factory into a lovely boutique hotel! The two hired the gifted interior designer Bruno Borrione to help fabricate the new hotel's layout. At every stage of the extensive project, the three took great care to respect the building's terrific heritage. Visitors will notice that the building still bears many of its striking industrial characteristics that date to its time as the Maison Boutet. The hotel is now an esteemed member of Sofitel's MGallery collection. In honor of its vaunted past, Sofitel manages this fantastic establishment as the Hôtel Paris Bastille Boutet.
Hôtel Paris Bastille Boutet – MGallery by Sofitel, a member of Historic Hotels Worldwide since 2018, dates back to 1926.