Hotel Phillips Kansas City, Curio Collection by Hilton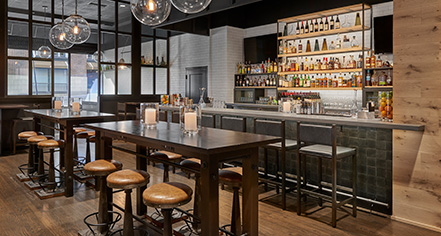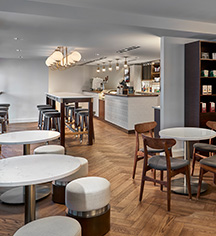 Dining
Kilo Charlie
Coffee Bar. When the elegant Hotel Phillips opened its doors in 1931, people all over the world were discovering radio's remarkable power to create shared experiences and connect people, across the globe and across town. Today, inspired by the glamour of the romance of its earliest days, Hotel Phillips Kansas City, Curio Collection by Hilton celebrates the dawn of the radio and telegraph era with Kilo Charlie. The sleek and sophisticated coffee bar is named after the NATO phonetic alphabet letters K and C. Kilo Charlie brings an essential element of 1930s life to one of present day's most popular rituals - connecting over a cup of well-brewed coffee.
Hours: daily, 6:30 a.m. - 7:00 p.m.
P.S.
Speakeasy Bar. An affectionate nod to the city's glamorous freewheeling nightlife, P.S. is Hotel Phillips' contemporary incarnation of the 1930s speakeasy, artfully crafting cocktails concealed in a long forgotten basement mail sorting room, accessible only by an unmarked door. Undercover and underground, P.S. celebrates its USPS roots by delivering today's imbibers nothing short of a first class experience.
Hours: Sunday to Thursday, 5:30 p.m. - 12:00 a.m. | Friday & Saturday, 5:30 p.m. - 1:00 a.m.
Tavernonna
Italian Kitchen Trattoria. Tavernonna showcases the work of five-time James Beard nominated chef, Michael Kornick of DMK Restaurants. Breakfast, lunch, and dinner menus feature exquisite versions of classic dishes that celebrate Italy's rich culinary history. Enjoy pristine ingredients from the finest local purveyors in Kansas City in a casual, elegant dining room.
Hours:
Breakfast: 6:30 a.m. - 10:30 a.m.
Lunch: 11:00 a.m. - 2:00 p.m.
Dinner: Sunday to Thursday, 5:00 p.m. - 10:00 p.m. | Friday & Saturday, 5:00 p.m. - 11:00 p.m.