Hotel Regina Louvre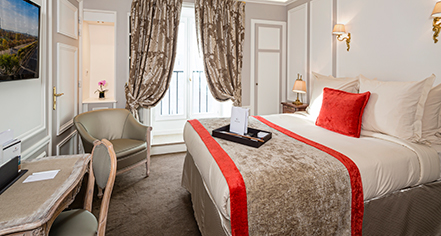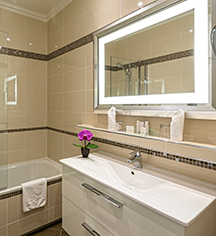 Accommodations
The exquisite and spacious guestrooms and suites at Hotel Regina Louvre offer guests the ultimate in luxury and comfort, with antique furniture and contemporary amenities. All rooms and suites are non-smoking and each of these Paris accommodations comes standard with a flat-screen television with satellite and pay-per-view films, high-speed Internet access, individual room safe, and a 220 V converter transformer available upon request. Suites also feature nightly turndown service, robes, slippers, and umbrellas.
Featuring views of the La Terrasse or Louvre museum, Superior Rooms will delight guests traditional romantic French furniture and brightly lit baths with hand-painted tiles.
The elegant antique furniture, traditional decor, and luminous baths of Deluxe Rooms create a harmonious warmth that radiates comfort and decadence. All the guestrooms offer views of either the Louvre or Rivoli Street.
Junior Suites are spacious and lavishly intimate featuring private entrances and a sitting area outfitted with sofas and arm chairs. Many of the suites offer balconies with soaring views of Paris and baths with separate showers.
The Family Room affords a Parisian experience and an unforgettable memory to share with loved ones. Comprised of two connecting rooms and a lounge, this spacious, quiet room can accommodate up to five guests. From the fluffy bathrobe with slippers, to "Le Petit Prince" amenities and surprises, children are treated like princes and princesses at the Hotel Regina Louvre.
An enchanting private entrance, regal reception room with sofa bed, two brightly lit bathrooms, and a large dressing room make for a indulgent stay in the Regina Suite. Views of the La Terrasse and unique layout create an idyllic setting for private meetings for a business traveler.
Skillfully designed and impeccably furnished with classic French furniture, The Junior Suite provides an ideal and convivial living space to entertain, work quietly, or relax. Overlooking the charming patio, this spacious suite is fully-soundproofed and offers a large space for up to 4 people.
Overlooking a privileged view on the Eiffel Tower, the Louvre museum, the Dome des Invalides, the Tuileries Garden, and the Orsay museum, The Eiffel Tower Junior Suite offers an elegant mix of space, comfort, and style. The luxurious suite is fitted with a living area boasting chic Parisian decor where guests can relax and admire the City of Light.
Elegantly designed with decor that mixes contemporary style and French chic, the stunning Louvre Suite boasts magical views over the city's rooftops and Paris' most beautiful edifices, such as the Louvre museum, the Eiffel Tower, the glass roof's Grand Palais, and the Tuileries Garden. Guests can savor the romantic experience and panoramic city view on the private balcony or on the lounge.
Lavishly decorated with Louis XV and Louis XVI style furniture and precious fabrics from major French companies such as Pierre Frey, the Eiffel Tower Suite offers wonderful city views of the Eiffel Tower, the Louvre museum, the glass roof's Grand Palais, and the Tuileries Garden. Thoughtfully designed for the modern traveler, the suite is completely soundproofed for a relaxing night's sleep. Boasting a comfortable lounge area and a large dressing, this romantic suite is perfect for a long and unforgettable stay in Paris.