Hotel San Francisco Plaza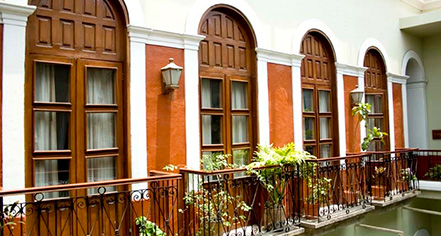 Local Attractions
Guadalajara is the second largest city in Mexico and the birthplace of mariachi and tequila. It is one of the most important industrial and commercial centers in Mexico, sometimes called Silicon Valley of Mexico.

Visit some of Guadalajara's most celebrated cultural attractions:
Guadalajara Cathedral
The Guadalajara Cathedral or Cathedral of the Assumption of Our Lady (Catedral de Guadalajara or Catedral de la Asunción de María Santísima), located in Guadalajara, Jalisco, is the Roman Catholic cathedral of the Archdiocese of Guadalajara and a minor basilica. It is built in the Spanish Renaissance style, with Neo-gothic bell towers.
Degollado Theater
Degollado Theater (Teatro Degollado) is a neoclassical Mexican theater known for its diverse performances and artistic design. When General Santos Degollado was governor of the state, he issued the decree in 1855 for the construction of a theater worthy for its people. Today, it is the venue of the Philharmonic Orchestra of Jalisco and of shows related to theater, opera, dance and artistic and cultural festivals.
Mercado de San Juan de Dios
Mercado Libertad, better known as Mercado San Juan de Dios (San Juan de Dios Market) is located in the city of Guadalajara, Jalisco, Mexico. It is the largest indoor market in Latin America with an area of 40,000 m². Most vendors in the market allow haggling, and many articles can be found at discounted prices. The market was inaugurated on December 30, 1958 and was designed by the architect Alejandro Zohn.
Cabañas Cultural Institute
The Cabañas Cultural Institute in Guadalajara is a UNESCO World Heritage Site. Designed by architect Manuel Tolsá and built at the beginning of the 19th century, this is one of the oldest and largest charitable complexes of New Spain, designed to function as an orphanage as well as a home for the aged, the infirm, and the destitute. In the early 20th century, the chapel was decorated with a series of murals by José Clemente Orozco.
Templo Expiatorio del Santísimo Sacramento
The Templo Expiatorio del Santísimo Sacramento is a Catholic church dedicated to the Blessed Sacrament, located in Guadalajara, Jalisco, Mexico. The church is of neo-Gothic style and is considered the greatest work of its kind in Mexico. Its construction began on August 15, 1897 and ended 75 years later in 1972.
Panteón de Belén
Panteón de Belén (Santa Paula Cemetery) is a historical cemetery located in Guadalajara, Mexico. It was designed by architect Manuel Gómez Ibarra, by commission of the Bishop Diego de Aranda y Carpinteiro. It opened in 1848 and was formally closed in 1896 by order of the health authorities. Since then, it has become a sort of museum piece, capturing the 19th century, pre-revolutionary period within its thick walls. Legends of: The Vampire, The Pirate, The Lovers, The Monk, The Child afraid of the Dark, The Story of José Cuervo, The Nun, and many more, have surfaced and are part of the local folklore.