Hotel Taschenbergpalais Kempinski Dresden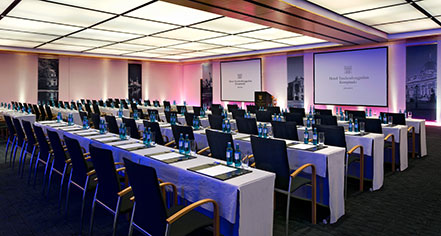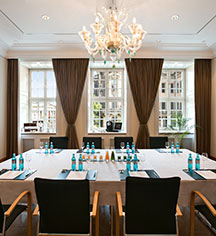 Meetings & Groups
Whether ten people or five hundred, each person is an individual to the Hotel Taschenbergpalais Kempinski Dresden. Whether a wedding reception or product launch, an official banquet or a cocktail party, the meeting facilities are designed to allow everyone to enjoy the comfort and care they deserve.
Kurfürstensaal Ballroom
The modern designed, 512 sq m (5,511.1 sq ft) Kurfürstensaal is in the basement of Hotel Taschenbergpalais Kempinski Dresden and is divisible into two halves. It is equipped with a daylight ceiling and computerized lighting technology, which allows to match the interior design color to specifications, whether with a special company logo and corporate colors or thematic mood specifications.
Bel Etage
The six elegant salons of the Bel Etage provide a great view of the historic city center of Dresden with views of the Residenzschloß and the Theaterplatz. The rooms are filled with daylight thanks to the almost ceiling-high windows. All meeting rooms are connected by high-wing doors and directly accessible from the historical staircase – which itself is also a beautiful venue for elegant receptions.
Audienzzimmer: The 100 sq m (1,076.4 sq ft) Audienzzimmer, with its optimal size and location, is not only ideal for food successions in the spotlight, but is also suitable for all kinds of meetings.
Portraitzimmer: In the royal ambience with portraits of past times of Augustus the Strong, guests can dine in the festive 46.5 sq m (500.5 sq ft) Portraitzimmer or hold a meeting elegantly on a small scale.
Galeriezimmer: The direct access to the historic staircase makes every champagne reception in the 62 sq m (667.4 sq ft) Galeriezimmer a memorable experience.
Porzellanzimmer: In the context of the glory of original Meissen porcelain, the 40 sq m (430.6 sq ft) Porzellanzimmer is not only the ideal location for fine dining, but also for outstanding presentations.
Musikzimmer: The 46 sq m (495.1 sq ft) Musikzimmer contains the original baton of Richard Strauss and is the perfect symbiosis of food and music.
Kabinettzimmer: Due to its size, the 54 sq m (581.3 sq ft) Kabinettzimmer is suitable not only for festive events, but also for conferences and meetings.
Historic Staircase
Welcome guests with an aperitif on the historical staircase of Hotel Taschenbergpalais Kempinski Dresden. Enjoy the royal ambience of the magnificent baroque staircase designed and built by the architect Matthäus Daniel Pöppelmann. Savor this unique opening for an event.
Private Chapel & Vestry
The chapel in the Taschenbergpalais was built for the Electoral Princess Maria Antonia of Bavaria in 1763. Famous artists were involved in its construction, such as Cuvilliés and Black (architect), Deibel and Hackl (sculptor) and JD Pöppelmann (painter). With an area of 106 sq m (1,141 sq ft) and a ceiling height of 9 m (29.5 ft), the room was faithfully restored after the original blueprints and is particularly well suited for exhibitions, concerts, and events.