Hotel Ullensvang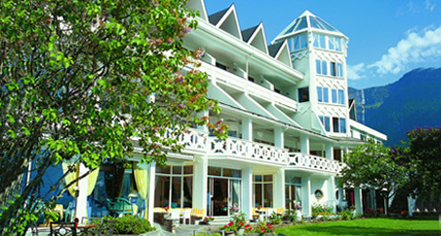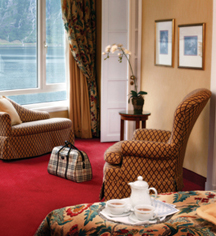 Dining
Hardanger Buffet Restaurant
Hotel Ullensvang is passionate about the use of local ingredients and flavors that showcase the best of Norway's finest gastronomic offerings. The buffet at the Hardanger restaurant features several hot and cold dishes of the highest quality. The dining area is built on different levels in order to feature the Fjord at every angle and can seat up to 500 guests. Norwegian antiques, traditional rose paintings, and other art featuring the local landscape are showcased throughout the restaurant, making the diner's experience truly unique.
Zazoni
This á la carte restaurant offers diners both traditional Norwegian and other delectable cuisines from all over the world. This stylish dining experience features a stunning view of the Fjord and the Folgefonna Glacier.
Bar
Located on the first floor, the dance lounge and bar offers live music every day except Sunday. With plenty of seating and a menu of light fare, the bar is the perfect place for a nightcap, a romantic date, or a light snack.
Munkens Troyst Wine Cellar
With an intricate wood carving greeting guests on the first floor, Munkens Troyst, translated to "The Monk's Comfort," was designed with the old monastery in Lofthus in mind. The cellar celebrates Norwegian heritage as hand-carved antiques adorn the walls which date back to 1865. Guests are encouraged to enjoy a bottle of wine or the popular Hardanger apple cider in Munkens Troyst.