Hotel Ullensvang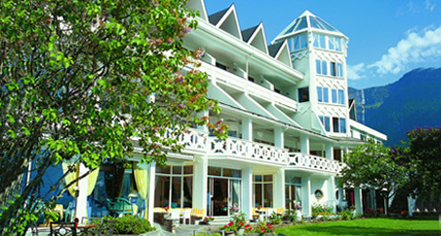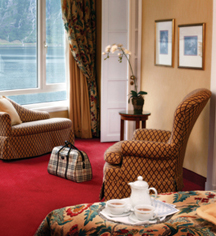 History
Hotel Ullensvang began as a modest boathouse built by Hans Utne in 1846. This "staging inn" was built on a small piece of land on the banks of the Fjord that Hans had recently purchased due to his inspiration from rowing across the Fjord from Utne at the age of 14.
The lodge consisted of Utne's own straw bed lofted over a shipping office. By the next year, he added another bed and from there the foundation for Hotel Ullensvang was laid.
Hans soon married Brita, the daughter of Johannes Johannessen Aga, a member of parliament. The couple maintained the modest Ullensvang lodgings, entertaining regular guests. Among the most famous guests was Norwegian composer Edvard Grieg. Edvard and his wife moved into the Utne family hotel but found the lodgings were not private enough for Grieg's work. To achieve the seclusion he needed, he built a small cabin on a nearby farm in the late autumn of 1877. While he built his cabin, Grieg performed two concerts in Bergen to fund his winter stays in Lofthus. It was there, in his Lofthus cabin, where his most recognized pieces were composed, including The String Quartet in G minor, Opus 27, The Mountain Thrall, Opus 21, and Album for Mandssang.
Hotel Ullensvang expanded and renovations were made throughout the years. By 1919, a second generation of Utnes took over the hotel which offered 50 beds year-round. During World War II, the hotel was temporarily used as a retirement home for Bergen residents.
In 1939, from the third generation of the Utne family, Ellen Harris and her husband, Hans, took over the management. As the first member of the family to receive training in hotel management, Ellen oversaw the complete renovation and expansion of Hotel Ullensvang while restoring the old and traditional fixtures of the buildings. By 1972, fourth generation Utnes, Edmund Harris and his wife, Ina Torill, made final expansion plans that have made Hotel Ullensvang the luxury first-class hotel that it remains today.
For years, Stig Nilsson of the Oslo Philharmonic Orchestra had been searching for an ideal location for a classical music festival. Nilsson discovered Hotel Ullensvang in 1995 and it has since hosted the popular Hardanger Music Festival every year. The 10th anniversary in 2005 was celebrated with the Norwegian Prime Minister at the time, Kjell Magne Bondevik and family, H.M. Queen Sonja, and the Icelandic Prime Minister Halldór Ásgrímsson and his wife. That same year, fifth generation Utnes, Hans Edmund Harris and his Swiss wife, Barbra Zanoni, took over management and have since remained caretakers of Hotel Ullensvang.
With over 150 years of Utne family management, Hotel Ullensvang offers the comforts of tradition and stylish luxury.
Hotel Ullensvang, a charter member of Historic Hotels Worldwide since 2011, dates back to 1846.