Hotel Villa Cipriani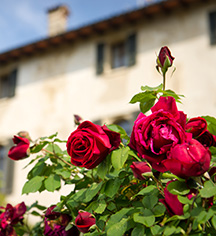 Local Attractions
Built at the summit of Mount Ricco between the mid-12th and early-13th century, the Rocca di Asolo (Rock of Asolo) overlooks the center of Asolo. Ostensibly used for warlike purposes, the austere fortress has a defensive structure. It underwent massive restoration in the 1980s and 1990s and guests can enjoy a 360 degree, bird's eye view of the horizon from the Po Plain to the entire arc of the surrounding mountains. On clear days with good light, one can clearly see the Venetian Lagoon.
In the heart of the city is the Piazza Garibaldi (Garibaldi Square), with its grand 16th century fountain topped by the winged lion. The water flows along the underground aqueducts that previously filled the Roman baths. A pine cone formerly towered over the column for a century before being replaced by the Lion of Saint Mark, a symbol of the Republic of Venice.
The Castello di Asolo (Castle of Cornaro Queen) was the former residence of Caterina Cornaro, former Queen of Cyprus. After her death it was extensively restored and readapted to the great "Pretoria Hall", where Venetian podestà once administered justice. In 1798, the vast interior hall was transformed into a theatre and the western side of the castle was knocked down in 1816. Today the original majestic clock tower is visible from all over town, and the interior serves as the Eleonora Duse Theatre.
Asolo Golf Club is located in one of the most attractive areas of the Veneto region, between the Asolane Hills, renowned for its gentleness and charm. The landscape is extraordinarily beautiful, rich in vegetation, and an ideal place for this well structured golf course. The course (18 holes par 72, 9 holes par 36) stretches across a surface of more than 140 hectares. The ground has 27 holes, stretches of water, lakes, and streams for an interesting and challenging course for all players.