Hotel Waldhaus Sils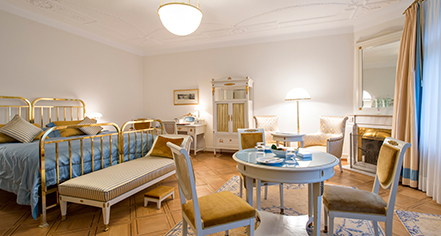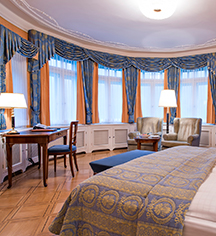 Accommodations
With nine categories of guestrooms and suites, the Hotel Waldhaus Sils offers a diverse group of accommodations. From Modern to Klassich to Nostalgisch to Junior Suite, each of the 140 guestrooms offers its own spin on cozy and comfortable quarters. With many beautiful views of the surrounding mountains and forests, no room's view is the same as the next.

Ranging from 14 to 90 square meters, there is a wide variety of spacious accommodations to choose from. No two rooms are alike at the Hotel Waldhaus Sils, just as no two guests are alike. Choose a category, let any needs or preferences be known, and the hotel's accommodations staff will do their personal best to accommodate.
Families
Families can rest easy knowing their children will be warmly welcomed by the Hotel Waldhaus Sils. Connecting rooms and suites are available for families and chidren's activities are easy to find, with an indoor pool and plenty of Sils Maria attractions. With spacious rooms spanning 43 to 95 square meters, there's lots of room for families to stretch out and relax.
Hotel Waldhaus Sils, a charter member of Historic Hotels Worldwide since 2014, dates back to 1908.
Amenities
Business desk with chair
Chest of drawers
Well-appointed bathroom
Sitting area (in suites)
Lush fabrics
Luxury furniture