Hotel Waldhaus Sils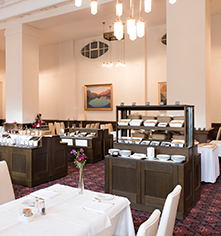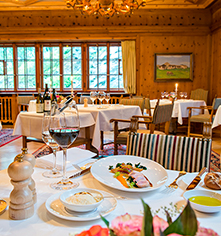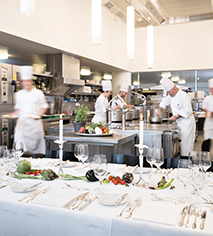 Dining
Pull up a chair and enjoy a delectable, diverse meal from the kitchen at the Hotel Waldhaus Sils. From flaky pastries to delicious Swiss entrees, each Hotel Waldhaus Sils dining experience is unmatched in taste and ambiance.

Learn more about the Dining Experiences at Hotel Waldhaus Sils:
Half-Pension - The Hotel Waldhaus Sils' crown jewel, Half-Pension brings together the family spirit and friendly atmosphere that the hotel is known for.
Arvenstube - An

á la carte restaurant boasting fresh ingredients artfully prepared by the culinary staff, Arvenstube also provides exceptional Engadine-style dishes.

The Bar - Blending the romance of the past with modern conveniences, The Bar is the perfect place for after-dinner drinks or an evening with friends.
Chef's Table - Up to 12 guests can experience the delight of sitting at the exclusive Chef's Table in the Waldhaus kitchen. See the kitchen at full force after a leisurely tour of the hotel's finely curated wine cellar.
Afternoon Tea
Enjoy a steaming cup of piping hot tea at the Hotel Waldhaus in the afternoons.
Wine
The culinary staff at the Hotel Waldhaus Sils believe that you should still drink the best wine, even if you drink very little of it. Boasting a varied and vibrant collection of fine wines, the 35,000 bottles in the cellar are chosen with a discerning eye, but also with a touch of the love and family spirit that maintains the Hotel Waldhaus Sils.
Chef
Kurt Röösli hails from Flühli near Lucerne and has graced the Hotel Waldhaus Sils with his talents since 1991. He became Executive Chef in 1996. Between working seasons, Röösli visits other chefs to learn from their expertise and bring those techniques back to his kitchen. Kurt blends his professional experience with an innate sensitivity to the needs and skills of those around him.