Hotel Waldhaus Sils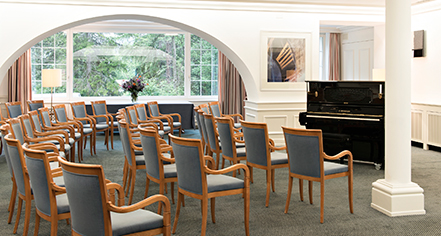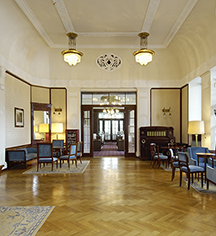 Meetings & Groups
Though primarily a family- and relaxation-oriented hotel, the Hotel Waldhaus Sils is perfectly equipped for any business meeting or conference. Its proximity to the nearest airport affords jsut the right amount of physical and mental distance for business guests to stay focused on the tasks at hand.

Boasting four, very comfortable conference rooms of 25 to 70 square meters as well as the "Sunny Corner" with 90 square meters of space, the Hotel Waldhaus Sils also has a 160 square meter banquet room perfect for larger group events and conferences. The dedicated staff is ready to help with any and all business-planning needs. The "Wedding Room" seats up to 170 in comfortable concert formation.

Coffee breaks can be catered by the exceptional culinary staff of the Hotel Waldhaus Sils, who ensure each break includes delicious treats and piping hot beverages. Need a personalized menu for an event? Chef Kurt will be happy to accommodate.

Overnight accommodations are available for business guests or guests attending events. During quieter times and depending on the rooms needed, the Waldhaus may be able to offer a special rate.

Need personalized flower arrangements for a large group event? Florist Anna Rosano is happy to design an arrangement suited to the event.

Outside of conferences, meetings, or group events, guests are encouraged to take advantage of the many activities both on- and off-site. Ski on the slopes or sip wine in the cozy Bar. Live music is scheduled for each afternoon and evening for tea and dancing. There are many sports and health activities to try, such as Electrobikes or the indoor tennis courts. Sis Maria is surrounded by many historic attractions, such as the Nietzsche House museum and the Castelmur Castle.
Technical Equipment
A flip chart and pin board
TV, DVD player, video player S-VHS, overhead projector, pin board, moderator case, screen, slide projector, Internet access, Business Corner
Beamer CHF 150 per day
Microphone system, depending on requirements
Sound system, depending on requirements
Internet and telecommunication
Mobile telephones