Hotel Waldhaus Sils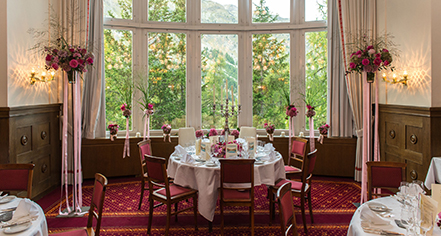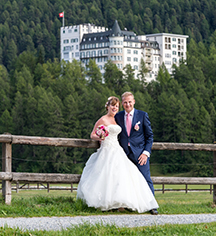 Weddings
The Waldhaus offers an exquisite, picturesque location for your wedding day. Your special day deserves undivided attention to detail and careful planning from a dedicated staff and that's just what the Hotel Waldhaus Sils offers.

Yours and your guests' comfort is of the highest priority. The Hotel Waldhaus Sils ensures comfortable, luxury guestrooms and, during quieter times and the rooms needed, a special booking rate for your guests.

Create an unforgettable culinary experience for your wedding reception with the help of the Hotel Waldhaus Sils' kitchen staff. With an extensive wine list and a host of delicious dishes, the Hotel Waldhaus Sils can help design the perfect wedding menu.

In need of a DJ or a band? The Hotel Waldhaus Sils has plenty of contacts for you to choose from.

An experienced florist is on hand to help with any and all flower needs for your special day. Anna Rosano is a seasoned hand at flower arrangements and will be happy to design the best arrangements to suit your vision.

The Hotel Waldhaus Sils is a breath-taking location and you're sure to want photographs of your big day. The Waldhaus staff can put you in touch with a professional photographer to capture these memories.

Resident pastry chef Renato Pellegrinelli is a master of wedding cakes and can craft the cake of your dreams.

The events team is ready to help with planning your big day. Make an appointment today!