Keltic Lodge Resort and Spa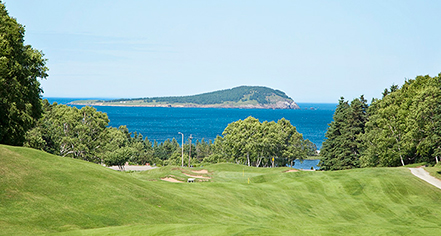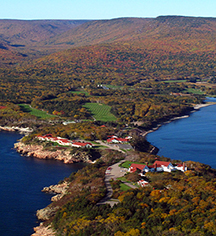 Local Attractions
With plenty of trails for hiking, beaches for sunning, and eclectic shops for browsing, Ingonish Beach is the perfect place to grab a souvenir or spend some time in the sun. Some of the activities below require at least five-day advance booking, so be sure to plan ahead.
Local Attractions, Tours, and Activities
Whale Watching
Pack a camera and gear up for the experience of a lifetime off of the coast of Cape Breton Island. Be sure to add a Cape Breton whale watching expedition to your itinerary and spend a few hours with the most majestic creatures of the sea. Common sightings include minke whales, pilot whales, fin whales, humpback whales, as well as dolphins, porpoises, sea turtles, seals, and many species of seabirds including bald eagles.
Fishing
Cape Breton Highlands National Park offers exceptional recreational freshwater fishing opportunities. The wealth of inland lakes, ponds and rivers in the area makes for excellent salmon and trout fishing from June through early October. Saltwater and deep sea fishing expeditions and ocean charters are also available.
Middle Head Guided Hike — short and extended options
Join in on this one-to-two hour walk/hike where the recreation staff will talk about local history, folklore, and facts.
Saltwater and Freshwater Beaches
Cape Breton Island offers exception fresh and saltwater swimming opportunities. From secluded sandy ocean beaches, with ideal conditions for beach combing and surfing, to warm water lakes perfect for kids of all ages.
Mountain Biking
In the immediate area, the Cabot Trail and the Cape Breton Highlands National Park feature well-maintained trails that include mountain climbs, and spectacular coastal vistas, ready for exploration.
Intro to Geocaching
The Recreation Staff will give guests all the details about the up-and-coming hi-tech sport called Geocaching!
Middle Head Multi Cache Hike
Self guided hike around Middle Head Peninsula where guests will find hidden boxes with history and folklore of the area.
Cape Breton Music Entertainment
Relax for the evening in the Highland Sitting Room with the featured Cape Breton music entertainer.
For the Birds Adventure
A boat tour to Bird Islands, the nesting grounds of the Atlantic puffin. On this 2.5 hour fun and educational tour, guests not only see puffins but other seabirds and animals like bald eagles and grey seals.
Zodiac Adventure
Enjoy a 1.5 hour ocean adventure aboard a high speed 12-passenger Zodiac. Behold the majesty of the rugged mountains, the expanse of the open ocean, and the enjoyment of stunningly beautiful Ingonish from a marine perspective.
Whisked away for a Whisky Experience
Travel the Nova Scotia Cabot Trail to Glenora Distillery–the only single malt whisky distillery in North America! Experience a distillery tour, barrel sampling in the whisky warehouse, and finish with a Tutored Whisky.
Sail the High Seas
Join Amoeba Sailing tours and observe the majestic bald eagles as they circle the boat, see Alexander Graham Bell's mansion Beinn Bhreagh and the beautiful Baddeck shoreline.
The History Buff Experience
Travel to Baddeck, Nova Scotia to the Alexander Graham Bell National Historic Site where you can explore the amazing details of a life that has touched so many. This unique exhibit showcases models, replicas, photo displays, artifacts, and films describe the fascinating life and work of Alexander Graham Bell.