Kempinski Palace Portorož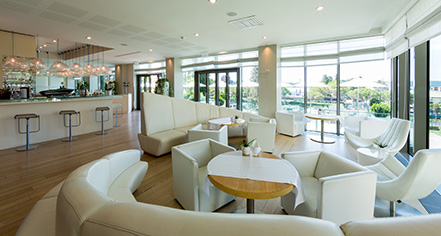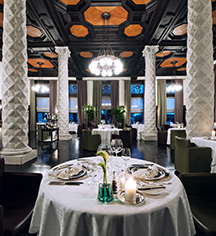 Dining
The Kempinski Palace Portorož boasts exquisite cuisine and is known for its innovativeness and its appetizing mélange of culinary delights. The hotel restaurants offer refined Mediterranean cuisine, complemented by local ingredients and flavors from all around the world, as well as a delicious collection of desserts. The Kempinski Palace has its own branded local products, and thus guests can experience local tastes.
Restaurant Sophia
A double miracle – the beauty of Sophia Loren, who stayed at the Palace Hotel and will always be remembered as a moment of "la Dolce Vita," and the miracle of the menus. There are certain moments in social history that will never be forgotten – in the 1950s, a black and white photograph of an Italian film star dressed in a low-cut Dior evening gown, seated at an elegant dinner table; one hand holding a champagne flute, and the other lightly touching a diamond drop earring. The former reception area is now the á-la-carte Restaurant Sophia, designed in affectionate tribute to the beauty of the Italian diva Sophia Loren. The stone pillars, vintage chandeliers, and a large fireplace with a painting are original items from the old Palace hotel and were restored during the renovation. The menus features exquisite Mediterranean cuisine, including a rich blend of Italian flavors and local ingredients, complemented with a selection of international and Slovenian wines.
Restaurant Fleur de Sel
A fusion of food with a hint of history, a dash of sea salt, and an amazing view over the Adriatic Sea. Fleur de Sel is the crème de la crème of sea salts, and Portoroz has always been famous for its salts. Today, Restaurant Fleur de Sel offers a combination of local modern food and a laidback lifestyle. The restaurant has a white interior with modern furniture, and details such as small crystals embedded in the bar, representing the salt flower. The restaurant serves the hotel's signature dish, Linguini a la Buzara. Located on the first floor and with a terrace overlooking the Adriatic Sea, it is the perfect venue to have a romantic dinner or a martini while watching the sunset.