Kempinski Palace Portorož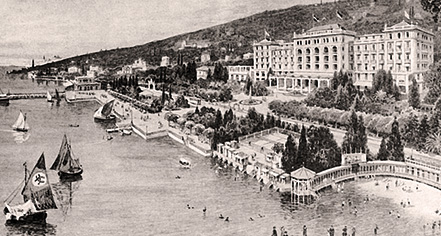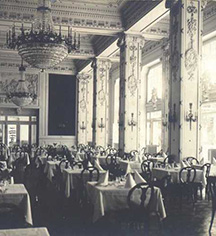 History
The Palace Hotel was built during the time of the Austro-Hungarian Empire as a tourist facility of the highest category. Along with Grado, Venetian Lido, and Opatija, Portoroz was the most important European seaside resort and health spa. Upon its opening on August 20, 1910, after the Excelsior Hotel in Venice, the Palace Hotel was the largest and most beautiful hotel on the Adriatic Sea. The hotel's design was conceived by an Austrian architect of Italian origin, Johannes (Giovanni) Eustacchio, whose idea was to create a colossal building blending various architectural styles with the elements of the Vienna Secession.
The Palace Hotel was closed for the first time in 1980. Three years later, some parts of the hotel were proclaimed cultural monuments (the architecture) and man-made landscape monuments (the park) by the Municipal Decree on the Proclamation of Cultural and Historical Monuments in the Municipality of Piran. In 1987, the Palace Hotel was closed for the second time; after reopening for a short time, it closed for good in 1990. The renovation of the Palace hotel started in 2005, and after 3 years, Kempinski and Istrabenz Hoteli Portoroz signed an agreement for the 20-year management of the hotel in June 2008. In August, Thies C. Bruhn was appointed General Manager of the Kempinski Palace Portorož. The official opening ceremony of the Kempinski Palace Portorož was held on October 18, 2008.
In its rich history, the hotel has hosted many statesmen and film celebrities, including Sophia Loren, Josip Broz-Tito, Marcello Mastroianni, Yul Brynner, Pierre Brice, Lex Barker, the American actor and film director Orson Welles, the Croatian pianist Ivo Pogorelić, the Greek composer Mikis Teodorakis, and the popular Italian singers Rita Pavone, Patty Pravo, Mina, Adriano Celentano, and Bobby Solo.

Kempinski Palace Portoroz, a member of Historic Hotels Worldwide since 2016, dates back to 1908.