Kempinski Palace Portorož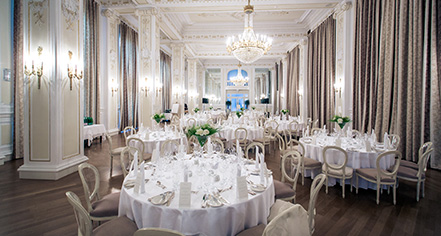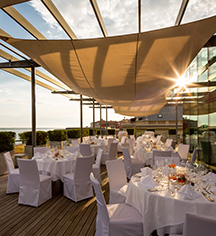 Weddings
The wedding day is the one day in a lifetime of which memories will last forever; when every moment has to be perfect. For wedding ceremonies, the Kempinski Palace Portorož is the perfect venue for every event, from engagement parties, to receptions, to the ceremony and has various venues, depending on the type and the size of the event.
The Crystal Hall Ballroom, with a terrace and a century-old park surrounded by greenery and blooming flowers, offers a setting straight out of a film set. For a perfect welcome reception, the roof top terrace offers a stunning view overlooking the Adriatic Sea.
Boutique, intimate, and timeless, the Restaurant Sophia is perfect for weddings in small and private circles. The glamour of the Restaurant Sophia creates a beautiful environment for smaller weddings of up to 60 people or for private ceremonies. This culinary jewel will welcome you on your special day with open doors and guide you in creation of eternal memories amongst the carefully selected individuals who will make your wedding as eternal as the beauty of Sophia Loren.
The over 100-year-old Garden is a diamond among parks. A rich historical park full of secrets, stories, and wonderful greenery is a hidden jewel for the wedding ceremony in nature. Let the trees in the pleasant Mediterranean breeze join in celebration of special moments of marital bliss. Host a unique wedding at Kempinski Palace Portorož and immerse in the everlasting love in the eternal garden.