Knutholmen Hotell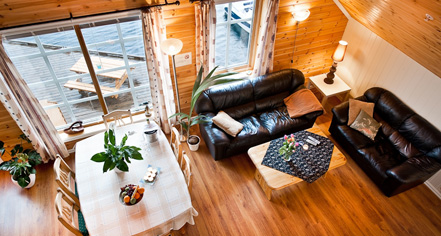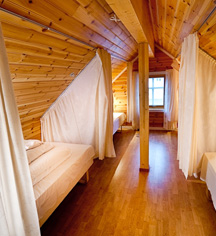 Accommodations
Comprised of several historic guest houses, Knutholmen Hotell boasts unique accommodations, with charming guestrooms, suites, and apartments, blending elements of its maritime surroundings and luxury conveniences.
Bremanger Spareforeining offers a variety of guestrooms and one- and two-bedroom apartments. Many equipped with a separate living room, kitchen, and expansive windows lending views of the harbor, these accommodations utilize the historic structural elements, lending a rustic charm.
Featuring beautiful double guestrooms, the Froyen House boasts accommodations with kitchenettes and magnificent views of the harbor.
Offered in single and double layouts, guestrooms at the Knutsen House are furnished with kitchenettes, private baths, and wide windows overlooking the harbor and sea.
Housing three spacious multi-story two-bedroom apartments, Amtskaia accommodations feature a variety of bedroom layouts and convenient luxuries, including a full-kitchen with a dishwasher, living area, dining room, and separate sitting area. Boasting a view of the Kalvag harbor from its private balcony, Apartment 21 includes two double bedrooms and a sleeping alcove. Apartment 22 has two bedrooms, extra sleeping space in the adjoining living room, and a balcony overlooking the Froysjoen fjord. Offering two bedrooms, one with two beds and one featuring a loft with four beds, Apartment 25 is a three-story retreat with expansive views of the historic fishing village.
Adjacent to the main building and guest docks, Nodsetbua and Svein Olav Bua both afford a kitchen area, living room with double sofa bed, spacious bath, and a bright veranda with majestic views of the fishing village. Nodsetbua offers three bedrooms while Svein Olav Bua is furnished with two.
Centrally situated in Kalvag, the Havstrand building boasts two fully-equipped apartments, Magen and Froysund, and affords its own jetty with a prime docking station. Boasting spacious living rooms, kitchens, and private baths, Havstrand apartments are fully-furnished with convenient appliances, include a washing machine, refrigerator, freezer, stove, hot water heater, waffle maker, and microwave. With dock access from the living room, Magen is a two bedroom apartment featuring 75 m2/803 ft2 of space. With three bedrooms and an additional loft furnished with four beds, Froysund offers 90 m2/968 ft2 and can sleep up to 9 guests.
Comprised of three modern apartments, Waldemarhagen accommodations are nestled in the center of Kalvag and afford convenient access to the village's exciting attractions. All Waldemarhagen apartments include satellite television, wireless Internet access, fully-equipped kitchen, laundry room, and parking space. One apartment affords 75 m2/803 ft2 with two bedrooms with two beds each, while the two other apartments boast 90 m2/968 ft2 and three double bedrooms, featuring a total of six beds.
Rorbuer Cabins/Flats/Sheds
Affording spacious accommodations, the Boggabua offers four bedrooms, kitchen with all major appliances, living room, bath, and a private patio next to the shed overlooking the harbor. Available to sleep 9 guests, Boggabua includes two bedrooms with two single beds, one bedroom offering three singles, and a double bedroom with two beds.
Knutholmen Hotell, a charter member of Historic Hotels Worldwide since 2013, dates back to 1860.