Kviknes Hotel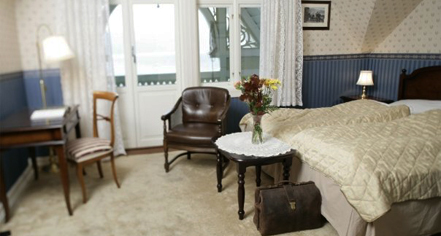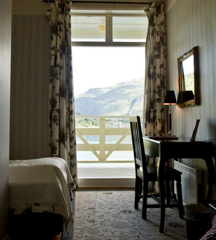 Accommodations
Whether located in the wooden Swiss-style guesthouse or the newer late-Moderism building from 1960s, all of Kviknes Hotel's 190 guestrooms, most with balconies offering magnificent views, come equipped with decadent baths with separate shower and toilet.
Located in the historic wooden wing, no two Demi Suites are alike each individually decorated and customized to create a personalize experience, most with balconies and all have spectacular views of the fjord.
View Guestrooms offer panoramic sea views in the historic wing inviting a rich ambiance and the option of connecting rooms with sharing baths, ideal for families and larger groups.
In the modern wing built in the 1960s, View Guestrooms all feature private balconies with breathtaking views over the bay and St. Olaf church, double beds, and a separate seating area.
Available with double beds or twin with a separate seating area, Standard Guestrooms located in the modern wing, many with private balconies with partial views of the bay, village and St. Olaf Church or the fjord, Sognefjord Aquarium, Tjugum church and spectacular Esefjella.
Kviknes Hotel, a charter member of Historic Hotels Worldwide since 2012, dates back to 1752.