Kviknes Hotel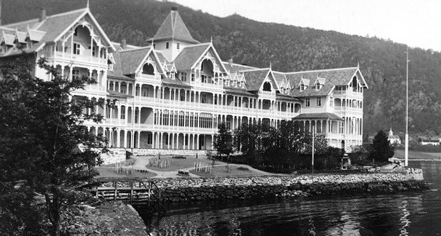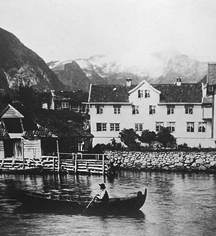 History
As the first Fjord Hotel in Norway, Kviknes Hotel is best example of Norwegian hospitality tradition dating back to 1752. The Kvikne family, who still own the hotel today, took over in 1877 providing superb service and accommodations. Built in the classic Swiss-style architecture, Ole Kvigne purchased the Holmen guest house in 1877 and was gradually renovated and expanded into Kvikne's Hotel. Together with his wife Kari and brother Knut, he extended the guest house in 1880, 1884 and again in 1885.
By the early 1890s, the flow of visitors from England and Germany was flourishing requiring Ole Kvikne to expand the property even further. German born architect and painter Franz W. Schiertz designed the new hotel, which stood ready in 1890. In 1894, an additional building was erected adjacent to the previous main house, that was demolished in 1912, which remains as the oldest part of the hotel today. Replacing the old main house, in 1913, another Swiss-style building joined the 1894 building, completing the hotel, now offering a total of 200 beds.
Ole Kvikne's son Sigurd took over the hotel management in 1916. Guest books were filled to bear witness to increasing numbers of visitors from America and, despite the years of the First World War and The Depression, business grew steadily. When Sigurd suddenly died in 1935, his wife Marta took over and the hotel's reputation continued to grow, both in Norway and abroad. After the Second World War tourism began to flourish again and interest in the hotel was renewed; guest books were never short of celebrities and dignitaries. In the post-war years, the emperor and empress of Japan and British prime minister Clement Atlee visited, giving praise to the luxury accommodations and excellent service.
By the mid 1950s, Per Kvikne joined his mother in managing the property to assist with the growing number of guests with tour buses frequently visiting the area and the new airport in Bergen improved connections from abroad. This led to the renovation and expansion of the hotel increasing its capacity to 400 beds.
When Per Kvikne died in 1991, his wife Mulla completely took over management, and is still actively oversees operations today. While several generations have taken over the hotel, the heritage of great traditional hospitality has remained a focus of the Kviknes Hotel experience. The generations have taken good care of antiques and artworks, which give the hotel its special charm and atmosphere today.
Kviknes Hotel, a charter member of Historic Hotels Worldwide since 2012, dates back to 1752.