La Misión de Fray Diego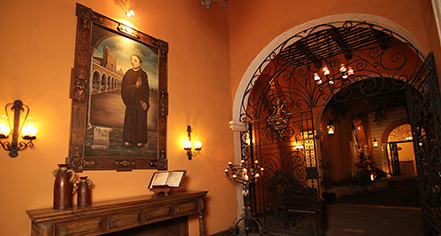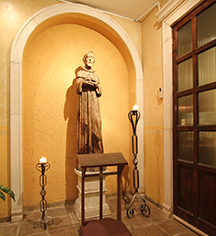 History
La Misión de Fray Diego is an antique 17th century mansion, restored and converted into an exquisitely charming, boutique hotel in Mérida, Yucatán. Over 400 years ago, La Misión was part of the Monjas Church (Nuestra Señora de la Consolación), today is located behind the hotel. The convent was completed on June 22, 1596 and at one point occupied the entire block between Calles 61, 64, 63, and 66A. The Conceptionist nuns managed the cloisters until October 12, 1867, when they were expelled by General Manuel Cepeda Peraza. Since the second half of the 20th century, the convent lost a great deal of its structure, and fell into the hands of private hacienda owners or the government.
The convent was built with private donations of cash or properties from individuals, ecclesiastics, and novices. It was maintained through financial "dowries" from their families, as well as from manufacturing and selling items, such as sweets, cookies, breads, and fruit. The churchgoers were of solid financial standing and often, a number of commercial deals were made in the visiting room.
According to local lore, the convent was built because the son of the governor, Alvaro de Vozmediano, perished in a shipwreck en route to Spain, and his fiancée, Carmita de Ordoñez, was so devastated that she decided to devote her life to God. Unfortunately, there were no convents in Mérida at that time, so her father constructed one.
Originally called Our Lady of Consolation, the convent occupied an entire city block and was a self-contained complex. Within the convent walls were a church, residential areas for 40 nuns, courtyards, gardens, and food production areas. The nuns formed an education facility for girls and a shelter for elderly and invalid women. Novices joined the convent of their own accord, but they had to be legitimate children, come from a good family, be between 15-17 years of age and in good health, and pay the "dowry" fee, furnishings expenses, and the habit-taking ceremony fee.
Although never proven, there is a persistent myth in Mérida that there was communication between the Monjas convent and the Cathedral through an underground passage, so that the cloistered nuns would not have contact with the outside world. In the town of Maní, 100 km from Mérida, it is even said that there was an underground passage from the San Miguel Árcangel church that went all the way to Monjas in Mérida.

La Misión de Fray Diego, a member of Historic Hotels Worldwide since 2016, dates back to the 17th century.