Las Casas Filipinas de Acuzar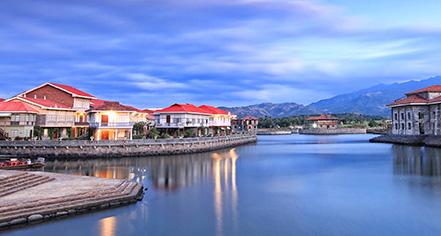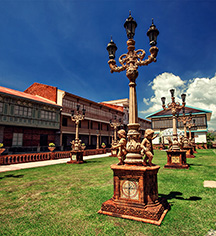 History
Located by Bagac Bay in Bataan, and offering guests a tranquil landscape and sea breezes, Las Casas Filipinas de Acuzar is a unique and distinctive historic resort, one that was designed with the idea of preserving and celebrating the architecture, heritage, and culture of the Philippines.
Comprised of 30 different "heritage houses," each building has a story and soul of its own. The collection of Spanish Colonial buildings, known as bahay na bato, were chosen based on their individual cultural, historical, and architectural features. They range in style from mansions, to wooden stilt houses. Cuidad Real de Acuzar is designed to be a reconstructed town, offering visitors a taste of the Philippine's past come to life.
The buildings were acquired and transported from varying locations across the country, representing a diverse range of cities and historic periods. Each historic building, and in some cases, the building's original lot, was carefully and impressively restored. The structures were meticulously dismantled, brick by brick, plank by plank, transported to Las Casas Filipinas de Acuzar, and reassembled by a skilled set of architects with the assistance of historians and expert craftspeople. In cases where an authentic reconstruction wasn't possible, materials that were as close to the original were sourced and used to complete the project.
Each building's legacy is as unique as its architecture. Some of the notable houses include:
Casa Candaba
Built in 1780, this is the oldest documented home in the resort and originally served as the Spanish Governor's home when he would visit the town of Pampanga.
Casa Lubao
Casa Lubao was built in 1920 and its original purpose was for sugar and rice storage. During World War II, the Japanese used it as a military outpost.
Casa Hidalgo
Casa Hidalgo, built in 1867 in Quiapo, Manila, was designed by Felix Roxas y Arroyo, the first Filipino to practice architecture in the Philippines. Owned by Rafael Enriquez, the house was considered the most elegant during the Spanish regime. The house held classes for the University of the Philippines until 1926, where Enriquez served as a professor and later its first director of the School of Fine Arts.
Casa Bizantina
Casa Bizantina, also known as the Don Lorenzo del Rosario House, was designed by Catalan architect Joan Josep Jose Hervas y Arizmendi in 1890. It was the first home of the University of Manila in 1914.
Casa Unisan
Casa Unisan, built in 1839 by Don Antonio Maxino, is the site of a gruesome massacre by bandits. Made of hardwood and complete with trapdoors, its ground floor is now the hotel's Marivent Café, which serves Filipino food.
Together, with cobblestone streets on which authentic calesas (horse-drawn carriages) transport visitors and heritage tours led by knowledgeable guides who narrate the story of each bahay na bato, Las Casas Filipinas de Acuzar offers guests an immersive trip back in time to discover and explore 18th century Philippines.
Las Casas Filipinas de Acuzar, a member of Historic Hotels Worldwide since 2017, dates back to the 1780.