Le Grand Hôtel Cabourg - MGallery by Sofitel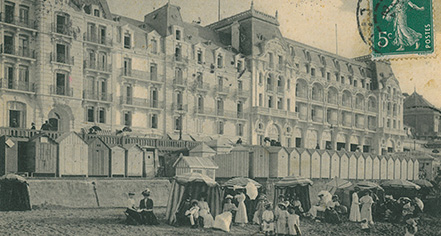 History
Straddling the majestic Norman coastline is the Le Grand Hôtel Cabourg - MGallery by Sofitel, a luxury hotel that has been entertaining guests for more than a century. In the early 1900s, greater numbers of people began vacationing in the town of Cabourg due to its quaint ambiance and intimate beaches. The little French town possessed an alluring charm that enchanted countless individuals yearning to escape the vigor of modern life. First built during the 1860s, ambitious hoteliers reconstructed the Grand Hôtel in 1907 to serve the town's flourishing tourist population. Redesigned by architects Lucien Viraut and Émile Mauclerc, many hailed the new Grand Hôtel as an architectural masterpiece.
Word of the luxurious building spread quickly, attracting many creative people to the hotel. The most famous among them was the world-renowned French author, Marcel Proust. From the time the building reopened until the eve of World War I, Proust was a regular guest. He regularly resided in one room on the fourth floor, Room 414, in which he wrote some of his finest literature. Proust strolled along the Grand Hôtel's neighboring beaches for long walks, drawing literary inspiration from both the building and its gorgeous scenery. The hotel left a clear impact upon his life. It served as the basis for a fictional seaside resort that appeared in his celebrated, voluminous novel, In Search of Lost Time. In the novel, the resort was named the Balbec that was strikingly similar to the Grand Hôtel.
Due to the profound influence it left on Marcel Proust, the French Ministry of Culture registered the Grand Hôtel as a historic monument in 2014. The building is one of the best-preserved examples of Belle Époque-style architecture in France, with its original façades and roofing astounding visitors to this day. The Grand Hôtel is now part of the Sofitel family of luxury hotels, having joined the company's esteemed MGallery collection in recent years.
Le Grand Hôtel Cabourg - MGallery by Sofitel, a member of Historic Hotels Worldwide since 2018, dates back to 1907.