Le Régina Biarritz Hôtel & Spa - MGallery by Sofitel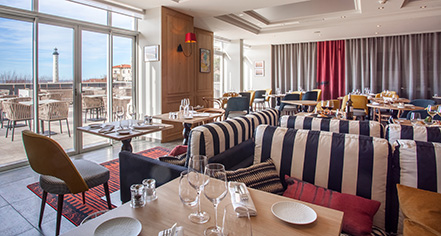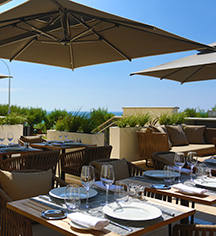 Dining
IQORI
Nestled between the oceanfront terrace and the central patio is IQORI, Le Régina Biarritz Hôtel & Spa - MGallery by Sofitel's elegant restaurant. IQORI features light-colored oak paneling and traditional striped fabrics. Diners will appreciate the exceptional location with its "full-sky" terrace overlooking the bay of Biarritz. Head Chef Antoine Chaurd conjures the very essence of southwestern France in his cuisine. Relying upon local flavors, Chef Chaurd crafts gourmet meals that enliven the soul. Guests are sure to find the appeal of IQORI irresistible.

Lunch: 12:00 p.m. - 2:00 p.m.
Dinner: 7:30 p.m. - 10:00 p.m.


Café N
Simply a must: enjoy afternoon tea or cocktails in this cozy coffee shop and lounge bar. On the patio, guests will find themselves immersed in a stylish and modern setting inspired by the 1930s.

Daily, 9:00 a.m. – 11:00 p.m.