Losby Gods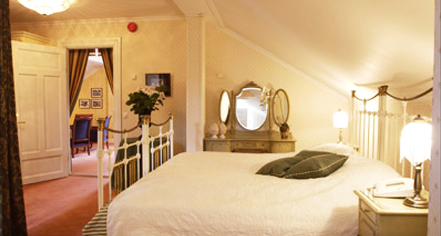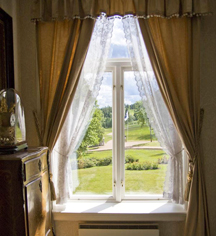 Accommodations
Losby Gods features 45 comfortable Standard Guestrooms equipped with a double-size bed, desk, reading corner with chair, flat-screen television, suitcase bench, minibar, trouser press, closet, bath with heated floor, shower, and heated towel rack.
Featuring views of the golf course and park from private balconies, 20 spacious Deluxe Guestrooms afford additional comfort with soothing fabrics, plenty of natural lighting, and romantic vanities.
With private entrances spanning two floors, Losby Gods features 4 Suites: Hästenssuiten, Kathryn, Lorentz, and Losby. All suites have a bedroom with an exclusive handmade Hästens bed, bathroom with both shower and Jacuzzi, lounge area, conference table with seating to accommodate up to 6 people, and a desk. Both floors of each suite have private balconies.
Tastefully decorated with soft colors and a separate living room and lounge, the Prince Suite is the located in historic sector of Losby Gods dating back to 1850. The bedroom features King Haakon VII's original custom-made bed from his estate at the time. The suite's bath is equipped with a sauna, Jacuzzi, large mirrors, and windows overlooking the grand fountain at the main entrance.