Maison Astor Paris, Curio Collection by Hilton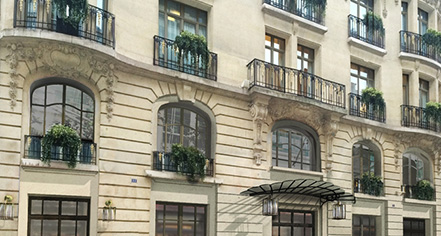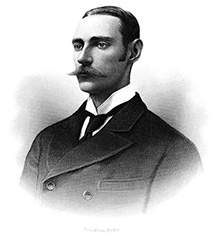 History
Maison Astor Paris, Curio Collection by Hilton was founded by avant-garde American businessman John Jacob Astor IV in 1907. Born in 1864 into the prominent Astor family, who had made their initial fortune as fur traders in the early 1800s. Astor himself was an inventor, real estate builder, investor, and lieutenant colonel in the Spanish-American War. He commissioned the seven story building to be built in 1907 as his Paris home. Astor had fallen in love with the City of Lights in 1905 and decided to move there with his new wife, Madeleine, after his 1909 divorce from his first wife. It was there that the two planned to make their main home during their extended honeymoon in 1911.
Though what is now the hotel was originally a home for the millionaire, he was no stranger to hospitality. In 1897, the Astoria Hotel in New York was built under Astor's direction, and he billed it as "the world's most luxurious hotel." Adjoining that building was the Waldorf Hotel, which was owned by Astor's business rival and cousin, William Waldorf Astor. The two buildings, built on Astor family property and quite successful on their own, were joined by an alley and came to be known as the Waldorf Astoria, one of the world's most iconic properties.
Astor perished on April 15, 1912 in the sinking of the R.M.S. Titanic, just seven months after marrying Madeleine. He had deposited his five months pregnant, 18 year old wife into the last lifeboat to leave the ship. She survived, and gave birth that August to Astor's last heir, John Jacob "Jakey" Astor V.
Continuing Astor's legacy of luxury and grandeur, the home became the Maison Astor Paris, changing through the years but always upholding the standard. In 2018, the hotel began an extensive refurbishment, due to joining the Curio brand by Hilton. The full renovation included updating the décor and style inspired by Parisian interior design, with large windows, high ceilings, and intricate molding.
Maison Astor Paris, Curio Collection by Hilton, a member of Historic Hotels Worldwide since 2018, dates back to 1907.