Marriott Syracuse Downtown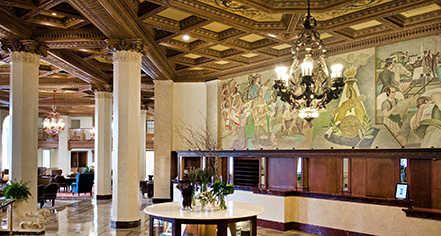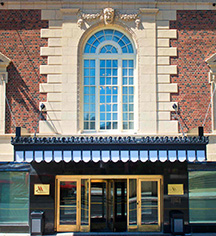 History
Originally known as the Hotel Syracuse, this property was considered to be the largest and most prestigious hotel in Syracuse, New York, for nearly 90 years. It was built from 1922-1924 by architect George B. Post and Sons as a community hotel with local shareholders. Its doors officially opened to the public in August 1924.
It was a magnificent structure, consisting of three towers connected to a base. It housed over 600 guestrooms that featured only one single or two double beds, and a small bedroom. In addition to the guestrooms, the Hotel Syracuse had beautiful ballrooms, the Persian Terrace and the Grand Ballroom, where many elegant events occurred. In the early 1980s, the largest space, the Imperial Ballroom, was added to the hotel. There were also retail stores at street level, an emergency hospital, and tennis, squash, and handball courts.
Perhaps one of the most fascinating pieces of history at this Syracuse hotel is the 40-foot by 6-foot mural depicting 20 key events during the first 100 years of Syracuse's history. These include the discovery of salt springs near the shore of Onondaga Lake, the formation of the Iroquois Confederacy, and the rescue of a slave named William "Jerry" Henry from the Syracuse Jail in 1851, just before the Civil War. This mural was painted for the hotel by Carl Roters, a professor at Syracuse University's College of Fine Arts. It was completed in 1948, 24 years after the hotel opened. The mural covered a concrete wall that was above the reception desk. In the early 1980s, the mural was covered by mirrored panels to keep up with the popular glass and brass look that was emerging during that time.
In addition to the mural, Roters also completed four panels of work in the Cavalier Room. Other important artistic features were uncovered and preserved during the restoration process, including the hand-painted detail of the ceiling in the lobby and the Persian Terrace, and the original cloud mural on the ceiling of the Grand Ballroom. It is tremendous that these historic works of art continue to have a place in the Marriott Syracuse Downtown.
Nowhere in Syracuse will visitors find a more historical hotel than at the Marriott Syracuse Downtown. It may have a brand new look but the memories remain unchanged.

Marriott Syracuse Downtown, a member of Historic Hotels Worldwide since 2016, dates back to the 1924.