Mountain View Grand Resort & Spa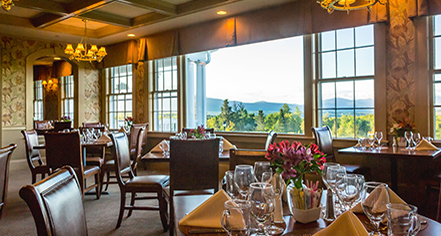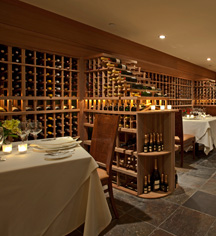 Dining
Explore the AAA Four-Diamond rated dining experiences at the Mountain View Grand Resort & Spa in the White Mountains of New Hampshire. The culinary staff and the Mountain View Grand Resort & Spa works closely with local New Hampshire and Vermont farms to procure the freshed ingredients for unique and hearty New England meals provided on-site.
Harvest Tavern
Indulge in the fresh and modern takes on farm-to-table cuisine with care by the award-winning culinary staff.

Hours of Operation
Breakfast: Daily 7:00 a.m. - 11:00 a.m.
Lunch: Daily, 11:00 a.m. - 5:00 p.m.
Dinner: Daily 5:00 p.m. - 10:00 p.m.
Tavern Bar
Daily, 11:00 a.m. - 12:00 a.m.



1865 Wine Cellar
Guests searching for a more formal dinner setting don't have to go far. Mountain View Grand Resort & Spa offers a quiet, relaxing ambiance within the historically elegant walls of this fine dining establishment that is also home to more than 6,000 wines that complement the locally sourced dishes whipped up by an award-winning kitchen staff. Reservations and proper attire are required.
Club House
Relax in a casual atmosphere ideal for refueling after a round of golf or exciting outdoor activity. The Club House is closed during the winter months, but in season, indulge in a gourmet pizzas, sandwiches, and salads while enjoying the outside dining area or lounging poolside.