NH Collection Grand Hotel Convento di Amalfi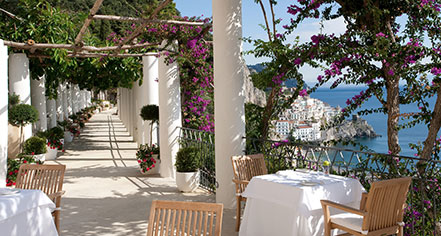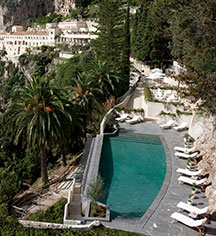 History Mystery
Which historic hotel was originally a 13th century Cistercians monastery?
Hint: This historic hotel is located in one of the UNESCO World Heritage Sites
If you guessed NH Collection Grand Hotel Convento di Amalfi (1212) in Amalfi, Italy, you guessed correctly!
Located in a 13th century monastery, which once was home to Cistercians monks and Cappuccini friars, the Grand Hotel Convento di Amalfi is perched on a clifftop high above sea level with spectacular views of Amalfi and the Mediterranean Coast and only steps away from the historic city center and the harbor of Amalfi. The Grand Hotel Convento di Amalfi is one of the most important monuments on the Amalfi Coast. For centuries, the beauty of the place, the flight of steps, the natural cave, the cloister, and the lemon gardens have provided inspiration for artists, painters, photographers, and travelers from around the world.
Included as one of the UNESCO World Heritage Sites, Amalfi is a picturesque town along the southern coast of Italy, surrounded by dramatic cliffs and exquisite scenery. With the foundation dating back to 1212 by the Cardinal Pietro Capuano, the original site became an abbey in 1223, and was directly dependent on the Cistercians. The monks left in 1452, and the University of Amalfi restored the complex. In 1583, the Cappuccini friars obtained the convent, staying for more than two centuries. Converted into a hotel in 1882, the Grand Hotel Convento di Amalfi has been and still is one of the most significant monuments of the entire Amalfi Coast, providing a long history of exceptional hospitality to royalty, aristocracy, and celebrities.
Learn more about NH Collection Grand Hotel Convento di Amalfi and book your next stay.