NH Collection Turin Piazza Carlina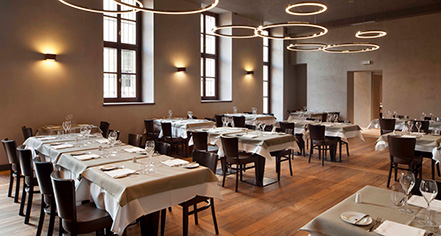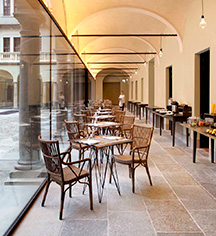 Dining
Carlina Restaurant & Bar
The Carlina Restaurant at the NH Collection Turin Piazza Carlina serves lunch and dinner daily. For lunch, it features a special light menu; while for dinner, the menu is a mixture of Italian and international cuisine. This fine dining restaurant is a treat for foodies who savor both local and cosmopolitan specialties made from fresh, seasonal ingredients. An extensive list of carefully selected wines are available to beautifully complement the meal.
Located on the ground floor is the stylish and cozy bar, the ideal place to indulge in a refreshing cocktail after an eventful day, either indoors or the square itself. With its welcoming atmosphere and a counter made from cedar tree wood by Turinese craftsman Santo Cinalli, this is the perfect place to wind down after a long day exploring the city or catching up with friends.