Omni Berkshire Place, New York City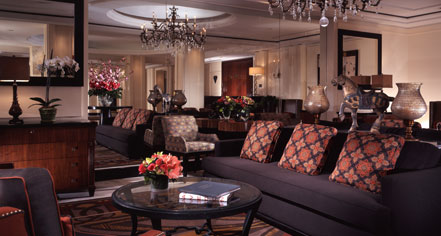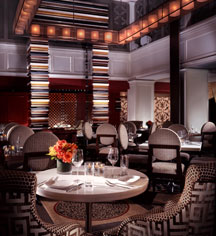 History
Warren & Wetmore built the historic landmark Berkshire Place Hotel in 1926 as part of their "Terminal City" vision. When they received their most famous commission, the Grand Central Terminal, part of the plan was to develop residences and hotels in the blocks surrounding the new beaux-arts terminal. The idea was to continue the aesthetic out into the neighborhood and more naturally integrate the transit-hub with the rest of the city. The hotel was held-up as a shining example of the Classic-Revival movement sweeping cosmopolitan centers.
Artists and socialites were known to make their permanent addresses at the Berkshire because the rooms and suites were exceptionally large for New York, and provided a residential experience with the services and amenities of a five-star hotel. In 1942, America's single greatest writing team, Richard Rodgers & Oscar Hammerstein, collaborated on the play that changed Broadway, and American musical theater forever. Writing "Oklahoma!" in suite 2100, it is now named the Rodgers & Hammerstein Suite in their honor.
The Dunfey Hotel Corporation, which included Omni Hotels and Dunfey Hotels groups, purchased the Berkshire in May 1978, and gave the property a $9.5 million face-lift in the next year.
Hong Kong-based Wharf Holdings purchased the Omni Hotels chain in 1988. In 1995, the Omni Berkshire Place underwent a complete historic restoration of more than $70 million.
TRT Holding, Inc. purchased the Omni Hotel chain in 1996. In the fall of 2003, the hotel completed a $4 million enhancement to all the guestrooms, suites, and hallways. In 2007, the hotel opened a new restaurant concept Fireside Cocktail Cuisine, redesigned the lobby, added an additional 1,200 sq ft of meeting room, and updated all the existing meeting rooms.
The most recent renovation in 2010 was a partnership with world-renowned designer, Alexandra Champalimaud, to bring the historic building fully into the 21st century. Her unique expertise allowed the Omni Berkshire to modernize the guest experience while still honoring that glorious midtown past. In the summer of 2016, Fireside restaurant closed to make way for the Omni Berkshire's newest restaurant opening in September 2016, Bob's Steak and Chop House.

Omni Berkshire Place, New York City, a member of Historic Hotels Worldwide since 2014, dates back to 1926.