Omni Bretton Arms Inn, Bretton Woods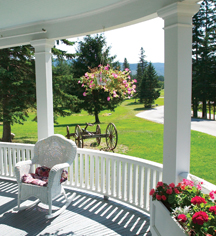 Overview
The Omni Bretton Arms Inn was built as a private home in 1896 and was first opened to guests in 1907. The inn was a part of the larger Mount Washington and Mount Pleasant Hotels which hosted a variety of visitors and was the distinguished headquarters for the Conference Secretariat during the 44-nation Bretton Woods Monetary Conference in 1944. The Bretton Arms was closed when it became staff housing for the Washington Hotel. In 1986 the inn underwent a restoration and was reopened. It was at this time that it was given its National Historic Landmark designation as part of the larger Mount Washington campus.

Omni Bretton Arms Inn, Bretton Woods, a member of Historic Hotels Worldwide since 2013, dates back to 1896.
With the growing popularity of the automobile in the early 1900s and the Inn's proximity to a 150-car carriage house garage, the Bretton Arms served as a complement to the larger Mount Washington Hotel, a popular destination for the AAA Glidden Tour.

Original Property Opened: 1896
Historic Hotels Worldwide toll-free reservations number +1 866 670 3764

Location
173 Mount Washington Road
Bretton Woods, New Hampshire 03575

Check-in time: 4:00 p.m.
Check-out time: 11:00 a.m.




Hotel Amenities & Policies
Accessible Rooms: Two (2) accessible rooms are available. Please notify request at time of booking.
Adjoining Rooms: Adjoining rooms are available. Please notify request at time of booking.
Age Requirements: Guests are required to be 21 years or older with photo identification to reserve a room and check-in.
Cancellation Policy: 7 days prior to avoid 1 night + tax penalty. Holiday periods vary.
Cribs and Pack-in-Plays: Available upon request; complimentary.
Deposit: 1 night + tax. Holiday periods vary.
Early Check-In/Late Check-Out: Available, depending upon availability.
Extra Person Fees: Extra-person charges apply.
Hotel/Resort Fees & Taxes: A $29 plus 9 percent tax per-room, per-night resort fee will be added to the daily room rate. This resort fee allows guests to enjoy many resort services and activities without having to incur miscellaneous charges. Services include: valet parking, high-speed Internet access, morning coffee, access to the fitness center and pools, local and toll-free calls, resort shuttle service, historic hotel tours, seasonal lectures and entertainment and more.
Parking: Self-parking: Available; complimentary. Valet parking: Available; complimentary. Electric vehicle charging. RV, bus, truck parking.
Payment: Cash Paying Guests: Guests paying with cash must pay the full stay's room and tax, plus a $210 per day deposit is required for incidentals at check-in. Debit Cards: The use of a debit card will initiate, at the time of check-in, an immediate deduction from your bank account for your room rate, inclusive of tax, for all room nights plus $100 per night for incidentals. Upon check-out, any unused funds will be credited back to your account. Based upon the business rules of your bank, it may take 72 hours or longer for your bank to process this back to your account. Check/ Money Orders: Both personal checks and money orders are accepted. Accepted Cards: MasterCard, Visa, Discover, Amex, and Diners Club.
Pet Policy: Service animals allowed: Yes. Pets allowed: No.
Rollaways: Available upon request; surcharge.
Shuttle Service: Resort shuttle service may be scheduled through the resort's concierge.
Smoking Policy: Non-smoking property. Guests who smoke in the rooms may be charged a fee.
The above list may not be comprehensive and information is subject to change without notice. Fees and deposits may not include tax. Taxes, fees, deposits, and policies are subject to change without notice.
Image Credit: ©Rashad Ashurov/Shutterstock