Omni Parker House, Boston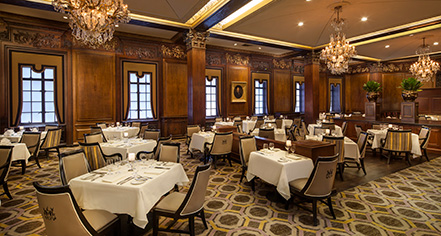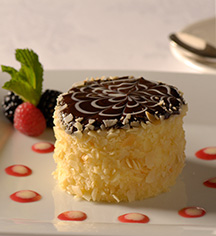 Dining
The Omni Parker House features three dining options, each with a unique ambiance carrying on the culinary heritage. Both the Boston Cream Pie and delectable Parker House rolls were created on property in the 19th century, much to the delight of guests. The Boston Cream Pie, the custard-filled cake with chocolate frosting, got its start at Parker's Restaurant in 1856 and is now the official state dessert of Massachusetts. The soft, buttery Parker House Rolls, dubbed "America's first soft dinner roll," was a top secret recipe until 1933 when U.S. President Franklin Roosevelt requested they be served at a White House Dinner. Since then, the property has welcomed guests for exquisite cuisine that is simply unforgettable.
Parker's Restaurant
Guests won't have to go far to experience Boston's finest dining. Featured in USA Today as one of Zagat's Top 15 Most Iconic Restaurants in America for 2013, Omni Parker House's award-winning restaurant is the birthplace of the Boston Cream Pie, Parker House Rolls, and Boston Scrod. Parker's Restaurant offers guests a superb culinary experience and exceptional personal service. The Waterford crystal chandeliers and the ornate hand-carved woodwork of this Grand Dame restaurant serve as a reminder of the days when Charles Dickens, Ralph Waldo Emerson, and other literary greats dined here as members of the "Saturday Club." Parker's Restaurant and the Omni Parker House are being featured on A Taste of History on PBS.

Hours of Operation
Breakfast: Monday to Friday, 6:30 a.m. - 11:00 a.m. | Saturday & Sunday, 7:00 a.m. - 11:30 a.m.
Weekend Brunch: Saturday & Sunday, 11:30 a.m. - 2:00 p.m.
Lunch: Monday to Friday, 11:30 a.m. - 2:00 p.m.
Dinner: Monday to Thursday, 5:30 p.m. - 10:00 p.m. | Friday & Saturday, 5:00 p.m. - 10:00 p.m.


Parker's Bar
A mahogany and stained-glass haven that once served as a thousand-volume library, now serves cocktails and light fare every evening.

Hours of Operation
Monday to Friday, 5:00 p.m. - Midnight
Saturday & Sunday, Noon - Midnight


The Last Hurrah
The Last Hurrah is a perfect place to meet friends and colleagues, eat and drink, and watch America walk by on Boston's historic Freedom Trail. Located inside Omni Parker House, the bar delivers a taste of historic Boston with a classy, old-time atmosphere. Appointed in soft leather upholstery and rich mahogany, The Last Hurrah is a Boston tradition. Try a signature martini or a single malt whiskey or savor a rich pint of local beer.

More than just an inviting, prize-winning pub in a great location, The Last Hurrah is also a mini-museum of 20th century Boston; framed photos of James Michael Curley and friends and images of congressman, senators, and other politicians associated with Boston and the Parker House, adorn the walls.

Serving as Boston's most famous political bar and pub, The Last Hurrah offers classic cordials, contemporary cocktails, and an impressive collection of Bostonian whiskey. Voted by Whiskey Magazine as a "Great Whiskey Bar of the World."

Hours of Operation
Monday to Friday, 4:00 p.m. - 1:00 a.m. (Food menu served until 10:00 p.m.)
Saturday, 4:00 p.m. - 1:00 a.m. (Cocktail service only)
Sunday, Closed


In-Room Dining
Enjoy New England cuisine in the privacy of your accommodations 24-hours a day.

Hours of Operation
24 Hours