Omni Royal Orleans, New Orleans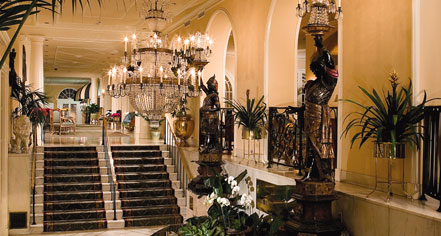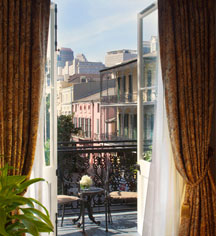 History
The Omni Royal Orleans' inception was the result of something powerful—Creole pride. After existing as a French territory for approximately one hundred years, with the Louisiana Purchase in 1803, the Creoles suddenly found themselves standing on American soil and forced to coexist with Anglo-Americans. Despite having to obey new Anglocentric rules, such as an official language, the Creoles ensured that their culture and beliefs would not be overlooked.
Shortly after the Louisiana Purchase, an American built a massive, rotunda-topped hotel across the street from the French Quarter, the cultural center of Creole life. Not to be outdone by these uncouth foreigners, the Creoles made their own—The City Exchange.
The City Exchange, named after the restaurant already on the premises, was designed by Jacques Nicholas Bussiere De Poilly, who was ordered to recreate the ambience and grandeur of the Rue de Rivioli of Paris. Nicknamed "Saint Louis," by its Creole neighbors, the hotel opened in 1843 and welcomed almost 600 guests.
Gumbo is said to have been invented at The Exchange by a Spanish kitchen worker and has gone on to become a Creole staple. The cocktail was also created at the Saint Louis, originally named, "coquetier." The French term baffled Americans who, unable to pronounce it properly, soon took to calling it a "cocktail."
In 1841, The Saint Louis Exchange hotel burned to the ground. It was quickly rebuilt using De Poilly's original plans and would play host to some of the South's most lustrous and lavish parties until the Civil War, when it would become a hospital for wounded soldiers.
The hotel passed through several hands during the Reconstruction period until it was finally sold to the state. In the state's possession, The Saint Louis Exchange became the capitol-seat of Louisiana's "Carpetbagger Legislature."
After 40 years of revolving managers who failed to turn a profit, The Saint Louis Exchange was sold back to the state of Louisiana and closed down at the turn of the century. During its empty years, it would crumble and decay like the French Quarter surrounding it until the hurricane of 1915 blew it down.
When World War II ended, Lester Kabacoff, assistant to philanthropist Edgar Stern, expressed interest in restoring the Saint Louis, and thereby the French Quarter, to its former glory. After a depressing decade of little funding, few believers, and restrictions from preservationists, Kabacoff's notion reached fruition and the Saint Louis Exchange, designed by Samuel Wilson Jr., opened as The Omni Royal Orleans in 1960.
Back in business and turning a profit within two years, The Omni Royal Orleans reinvigorated the despairing French Quarter.
Omni Royal Orleans, New Orleans, a member of Historic Hotels Worldwide since 2014, dates back to 1843.