Palais Hansen Kempinski Vienna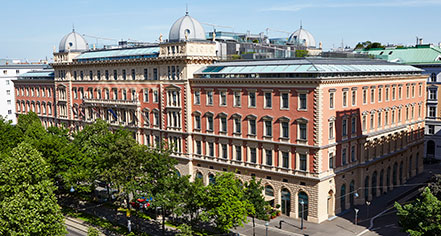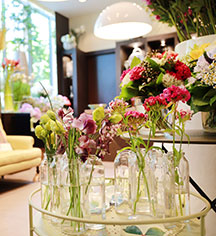 History
Located in the first district and built between 1869 and 1873, the Palais Hansen Kempinski Vienna is among the most important historic buildings in Vienna. Heinrich Förster and Theophil Edvard Hansen, who is known as one of the most important architects of Ring Boulevard, were in charge of the planning. Theophil Edvard Hansen also built the Parliament, the Vienna Music Society, the ancient Stock Building, the Museum for Applied Arts, and the Palais Epstein. After having finished his studies in Vienna, the Danish architect spent eight years in Athens. This time highly influenced him, which is reflected in the characteristic pillars in his buildings.
Originally planned as a hotel for the world exhibition in 1873 in Vienna, the Palais did not actually open as such; instead it was home to several offices and different municipal departments.
In 1997, the City of Vienna sold the building. Yet, the wish to put the building to its originally intended use persisted. Therefore, Palais Hansen Kempinski Immobiliengesellschaft teamed up with the Kempinski Group to start their painstaking restoration and to remodel the building into a hotel.
The Vienna-based architect Boris Podrecca and the Austrian architecture firm Atelier Hayde Architekten were contracted to carry out the work. Podrecca has left his mark on the city in many other places as well. He was involved in building the Millennium Tower and designing the Praterstern Urban Square in front of Vienna's railway station. Interior designer Jean-Claude Laville was tasked with creating the Palais Hansen's interior design.
The legacy of the illustrious original architect, Theophil Hansen, is still visible in the striking façade, the lobby's monumental columns, the ballroom's foyer, the 19th century window frames, and the staircases with their delicately wrought cast-iron banisters. As with many of Hansen's works, Nike, the Greek goddess of victory, watches over the building. Her statue on the roof is a reminder of Vienna's great victories, and her image in the hotel's logo is homage to the celebrated architect himself.

Palais Hansen Kempinski Vienna, a member of Historic Hotels Worldwide since 2016, dates back to the 1873.