Palazzo Caracciolo Napoli - MGallery by Sofitel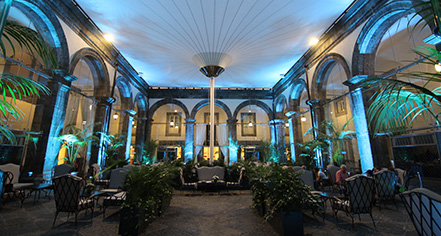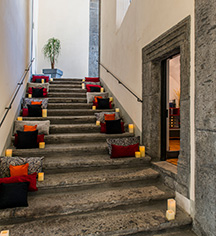 History
The history of the Palazzo Caracciolo Napoli - MGallery by Sofitel has its roots in the Neapolitan aristocracy. The hotel draws its name from the Caracciolo di Santo Buono, who were a powerful family that played a central role in the history of southern Italy, especially the Kingdoms of Naples and Sicily. The Caracciolo family had Byzantine origins, with the first records dating back to the 9th century. At the time, they were identified as the "Caracolo," a name that would later become "Caracciolo."
When the court of the Kingdom of Naples moved into Castel Capuano towards the end of the 13th century, King Charles I d'Anjou built a castle on the Via Carbonara, just outside the entrance to the city of Naples. Later, his grandson, King Robert, would give this castle to Landolfo Caracciolo for the loyalty and services rendered to the Crown, although the king reserved the right to use it to attend shows, performances, and tournaments. However, on December 4, 1456, a significant earthquake rocked the region and caused major damage to the city of Naples, including the castle that had been given to the Caracciolo family. The castle was eventually replaced by the Palazzo di Caracciolo in 1584, the building that stands on the spot to this day. Vestiges of the original castle are still visible in the current structure.
The new building did not pass through history unscathed either. During the Revolution of Masaniello in July 1647, the Palazzo di Caracciolo was looted by rioting citizens who were angry at the heavy taxes and financial mismanagement in Naples. The revolution was actually relatively successful and forced the nobility of Naples to flee. In need of a new leader, the revolutionaries called upon Henry II de Lorraine, the Duke of Guise, to lead them, and he declared Naples a republic under the protection of France. To house his new government, Henry II requisitioned the Palazzo di Caracciolo for use as his home and court. However, the Neapolitan Republic was very short-lived, as just six months later an army under the command of John of Austria marched into the city and crushed the fledging state. After these events, the palace was looted and damaged once again, with much of the furniture being stolen. Eventually, the building returned to the possession of the Caracciolo family.
Starting from 1650, the Palazzo di Caracciolo became noted for its grandeur and was frequently used as the location for important marriages. In 1683, the palace hosted the marriage of the Prince of Torella to the eldest daughter of the Prince of Avellino. Ten years later, Antonio del Giudice, the Duke of Giovinazzo and Prince of Cellamare, married the daughter of the Prince of Sulmona. The building also regularly hosted ambassadors, statesmen, and other illustrious personalities.
Over time, the Palazzo di Caracciolo fell into disuse and was abandoned until the first half of the 19th century, when the Ministry of the Interior decided to reuse the building as a barracks for the Guards of Public Security. Later, the building passed into the hands of successful entrepreneurs, who converted it into a luxury hotel. Now, the building houses the Palazzo Caracciolo Napoli - MGallery by Sofitel, a world-class hotel experience that connects guests with the long and winding history of the city of Naples.
Palazzo Caracciolo Napoli - MGallery by Sofitel, a member of Historic Hotels Worldwide since 2018, dates back to 1584.