Pulitzer Amsterdam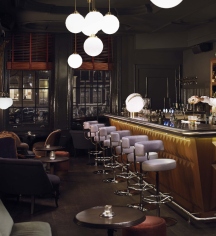 Dining
Pulitzer has a deep passion for elegant culinary craftsmanship. Pause is the bright garden café to recharge throughout the day. Restaurant Jansz. serves simple yet beautifully crafted dishes, inspired by classic European cuisine. Pulitzer's Bar is the perfect place to enjoy an immaculately mixed cocktail in style.
Jansz.
This unique space was once home to the 17th century craftsman Volkert Jansz, a man with discerning taste, a keen eye for style, and a passion for scintillating conversation and debate. He embraced the finer things in life, but also believed that decadence and luxury was more enjoyable when shared.

Pulitzer Amsterdam's restaurant demonstrates the hotel's deep passion for elegant culinary craftsmanship. Jansz. is a quietly elegant neighborhood restaurant with an easy-going Dutch attitude. The menu features beautifully crafted modern classics that respect the simplicity of quality produce and ingredients.
Pulitzer's Bar
The glamour of long lost times enters the modern day at Pulitzer's Bar. This timeless hotel bar tells a contemporary tale of cocktail history through a classic menu and an effortlessly elegant atmosphere.

The interior captures the accessible elegance of old school hotel bars in a monumental Amsterdam building with its own entrance at the Keizersgracht. One could easily flee the bustle of the city, yet overlook its signature canals, in one of the comfortable armchairs or talk the night away at the impressive Art Deco style bar.

Hours
Sunday – Thursday, 15.00 – 01.00
Friday & Saturday: 15.00 – 02.00


Pause
Whether a hotel guest, a sightseeing tourist, a neighbor, or a busy local, Pause is the perfect place to take a breather. Recharge in the soothing gardens or unwind on the outside terrace, surrounded by the striking canal houses. Serving a friendly breakfast, bold morning coffee, refreshingly light dishes, or a great glass of wine, all can be enjoyed in or out. Pause is a gem, hidden in plain sight, and a leafy oasis of tranquility for anyone who needs to pause.