Quinta Real Puebla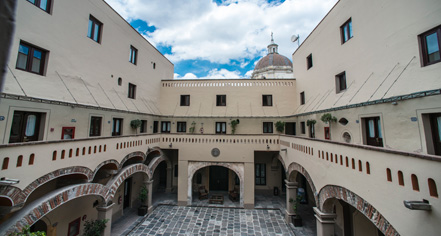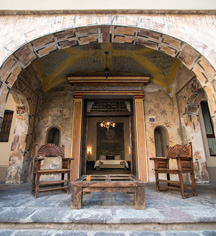 History
Until the 16th century, there was only one convent in the city of Puebla de los Angeles until Priest Leonardo Ruiz de la Peña was inspired to construct one in honor of the Virgin Maria. Passionate about his mission and service, Priest Leonardo Ruiz de la Peña regularly rode horseback to visit nearby communities and villages. During a visit to a neighboring area, the priest was attempting to cross a river when a flash flood swept him and his horse in its current. Legend has it that a figure in a white dress and blue cloak pulled him from the river to safety. In exchange for his salvation, the priest was motivated to build the Convent of the Immaculate Conception on February 24th, 1593.
The Order of the convent quickly popularized and became the wealthiest in Puebla. Potential postulants were required to be of pure Spanish blood and present a dowry. The amount of the dowry determined the size of the postulant's room. Because of the prestige of The Choir of the Conception, women with an exceptional talent for music or singing were exempt from giving dowries.
In 1860, during the Reform War in Mexico, the convent was expropriated and used as an army headquarters. The convent became a landmark in the Battle of Puebla on May 5, 1862.
After the war, the Spanish Colonial structure was left unused and gradually deteriorated. In the mid 1980s, local architect Rodolfo Jimenez Brito established a trust with several investors to restore and convert the property into the luxury historic hotel that remains today.
Quinta Real Puebla, a charter member of Historic Hotels Worldwide since 2013, dates back to 1593.